To enter text in Firefox's URL bar, you usually select it with cursor. However, Simplify Awesome Bar is a handy add-on for the browser that enables you to enter text into address bar without selecting it first. So you can enter URLs and search for keywords when cursor is not in an input field.
Add this extension to Firefox from the Simplify Awesome Bar page. Then press the w key to enter a URL in the address bar. That will select and enter the w into the address bar.
Selected website text also goes together with a typed letter. For example, if you selected the text Google on a page and entered a w w Google would then appear in the address bar. Then press Enter to search for the keyword in Google's search engine.
Alternatively, select some text on a page and press Space. That will add the selected text to the address bar. Thus, this bypasses the Google search option on the context menu.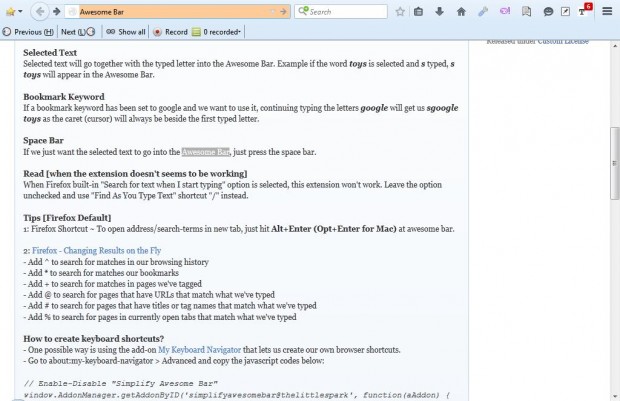 You can also open the address/keywords in new tabs. Press the Alt + Enter hotkey when you've added the URL or keyword to address bar. That will open the website page or Google search engine in a new tab.
So with Simplify Awesome Bar you can now enter text directly into the address bar without selecting it first. That's a handy shortcut for opening and searching for website pages.
Related Posts