Minimode 1.4 is a Firefox extension that gives you an alternative full-screen mode. It removes all the toolbars except address bar and tabs. However, it also includes customization options so that you can include more in the minimode.
Install Minimode 1.4 from this page. A browser restart is also required to activate this add-on. Then press the Ctrl + F11 hotkey to switch to a minimode as below. It will close all bars except the address and tab bars.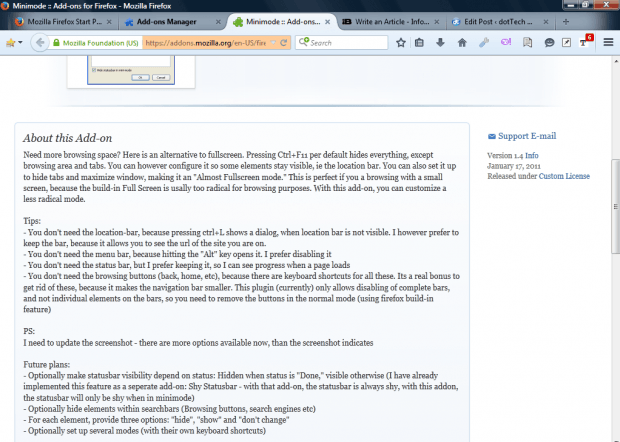 But you can configure it so that more bars remain open. Click Open menu > Add-ons and press the Options beside Minimode 1.4 to open further settings as shown below. There you can adjust the hotkey by selecting an alternative key from the keyboard shortcut drop-down list.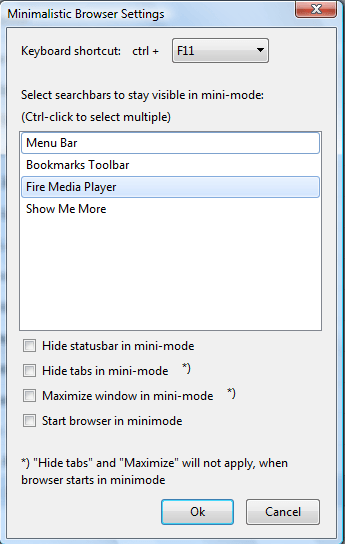 Below that you can select search bars and other bars to keep open in the minimode. For example, you could select to keep your menu bar open. To select multiple bars, hold the Ctrl button and then press the OK button to apply the settings.
In addition, there are a few check box options on that window. Select the Hide statusbar in mini-mode check box to remove the status bar. Click Hide tabs in mini-mode to remove those when you press Ctrl + F11. A Start browser in minimode option launches Firefox in the minimode.
So this add-on gives you a more flexible alternative to Firefox's full-screen mode. The developer has also hinted they'll be adding more to it in further updates.
Related Posts