As part of Google's continuous updates to its Android platform, it has recently announced a new feature that allows users to easily send notes from their desktops to their Android devices.
This, however, will require you to do the following:
Have the latest version of the Google app installed on your Android smartphone or tablet
Have the Google Now notifications enabled on your device
Have the Web and App Activity option enabled on your Google account
Log in to your device and web browser (preferably Chrome) using the same Google account
Once you've met the above mentioned requirements, just follow the steps listed below.
How to easily send notes from desktop to Android phone
Open your web browser and go to Google.com.
Once you're on Google.com, just type "note to self" on the search bar and then add your custom note or message.
Once done, just press "Enter".
You may edit your note first and then choose the device where you want to send it from the drop-down list. For example, you can opt to send your note to your Galaxy S5.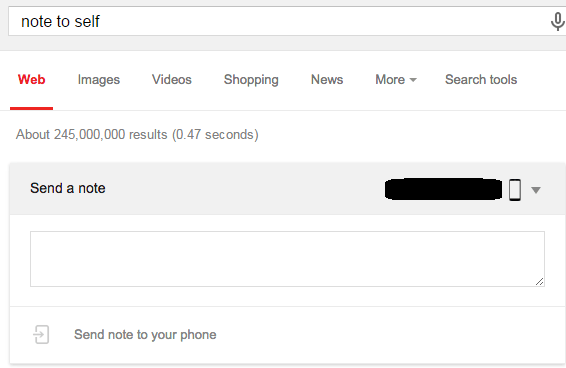 Just click "Send note to your phone" to confirm.
So that's it! Check your phone or tablet. You will most likely see your note in the notification area.
It's as simple as that.
In another post, we've also covered a topic on how to quickly send directions from your desktop to your Android device. So go ahead and feel free to check it out.
Related Posts