InstantFox is a Firefox add-on that enables instant searches. This add-on enables you to search with alternative search engines via the browser's address bar. In addition, it also provides automatic search suggestions as you enter keywords.
Add the extension to Firefox from the InstantFox page. When you've done that, it removes the search box from Firefox. As such, the search box and address bar are combined.
Next, enter g into the address bar. Then press Space and input a keyword into the address bar. When you press Enter, Google opens with matching pages.
You can search with a variety of other search engines much the same. For example, entering b before the keyword searches with Bing. You can also search with Google by entering I for Google images. Click the magnifying glass beside the address bar to open a full list of search engine shortcuts as shown below.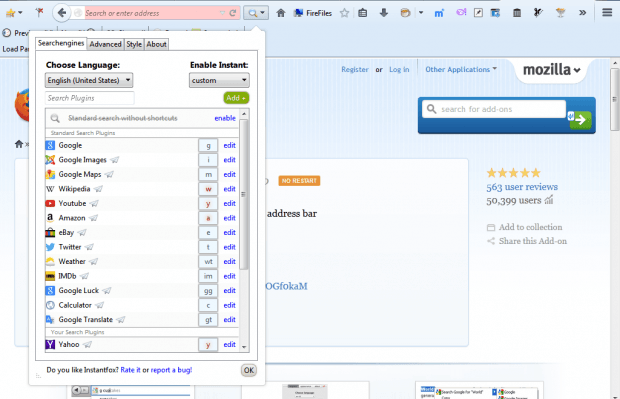 You can edit the search shortcuts from that window. Click inside the text box beside the search engine, and enter an alternative key. Then press OK to apply the shortcut.
In addition, the add-on gives you search suggestions. As you enter the keyword, search suggestions are displayed below. Click on one of the search suggestion hyperlinks to open its page.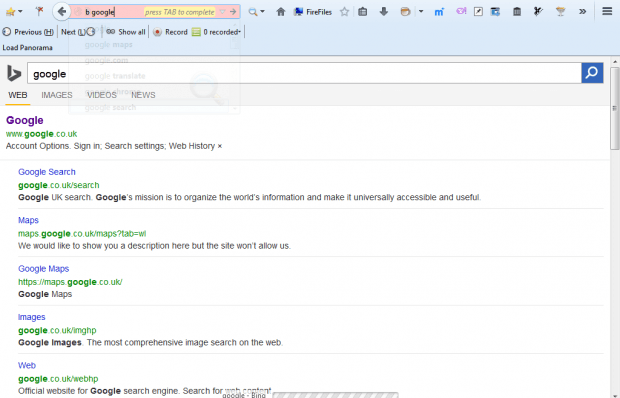 To switch the search suggestions off, click the add-on's button on the toolbar. Then press edit beside one of the search engine shortcuts to open the options below. Switch the Instant page loading option to off and press OK.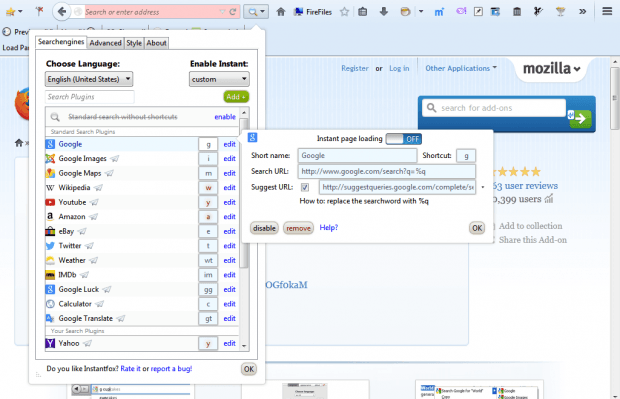 So with this add-on you can now search for pages directly from Firefox's address bar. With its search engine shortcuts you can quickly select a search engine to find pages with. You'll further details for InstantFox at its home page and by playing this video.
Related Posts