Have you ever used a highlighter pen to mark important texts on your books and notes? If you have, then it's really no different than using a digital highlighter pen for online articles and posts. As a matter of fact, there is a wide range of online text highlighting tools out there that you can use for free. The thing is only a few of them have built-in sharing options. So it's only you who gets to view your highlighted texts. If you share the article to others, they won't be able to see the texts or words that you've highlighted.
So if you want a highlighter pen with sharing options, just follow the steps listed in this post.
How to highlight and share important text from web pages in Chrome
First things first, add the "Yellow highlighter pen for web" extension for Chrome. Just go to its Web Store page and then click the blue "Free" button.
Once added, the extension will add a pen icon right next to your browser's address bar.
Load any web page or article.
To highlight texts, click the pen icon first and then once your mouse cursor changes its color, just highlight any text that you want.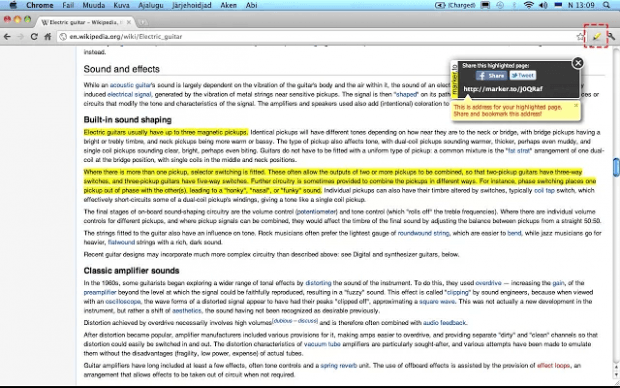 While you're highlighting texts, a floating or popup window will appear. In it, you may copy the sharing URL for your highlighted texts. You may also share your highlights directly to Facebook or Twitter.

By default, the highlight color will be yellow but if you want to change it, just click the pen icon right next to your highlighted text. It will display other highlight colors and options. Just click the "X" icon to delete a highlight.
That's it. You're done.
Related Posts