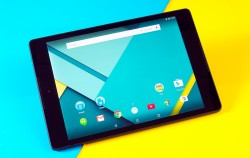 The Google Nexus 9 has yet another factory image available to install — this time the LMY47X firmware build number on Android 5.1.1 Lollipop. If you haven't gained root access before, or if you did have root access and you updated to this factory image to get more bug fixes and improvements, you'll need to use this guide again to root Nexus 9 on Android 5.1.1 Lollipop. Here's how to do that:
REQUIREMENTS
To root Nexus 9, you must have that same device and not a different tablet or smartphone from the Google nexus range.
It is recommend you are running the Android 5.1.1 with firmware build LMY47X to follow this guide.
BEFORE WE BEGIN
Download the Google USB Drivers for your Nexus 9 device.
You are voiding the warranty by following the guide.
Enable the USB Debugging Mode so you can connect the tablet to the Windows PC with no worries.
HOW TO ROOT GOOGLE NEXUS 9 RUNNING ANDROID 5.1.1 LOLLIPOP
Download the Nexus 9 root exploit by Chanifire here to the Windows PC.
Click the small arrow on the side of the file that's above your taskbar after you click the link above to download.
Choose the "Show in folder" option from the menu.
Drag the file over to the desktop of the Windows PC.
Boot the Nexus 9 in bootloader mode (same as Fastboot mode) by using ADB or by using key commands.
– those using key commands should completely power down the tablet by holding down the Power button for 15 seconds. Now reboot by holding the Power, Volume Up and Home buttons at the same time.
Connect the nexus 9 to the computer with the USB cable.
Now run the root-windows.bat you dragged to the desktop.
Follow the instructions on the screen to complete the job.
Related Posts