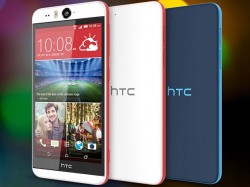 The ClockworkMod recovery touch version is now available for the HTC Desire Eye and you can easily equip your smartphone with it by following this guide. As you probably know, CWM recovery is the most popular custom recovery in the world and for good reason.
REQUIREMENTS
You must have the HTC Desire Eye bootloader unlocked before continuing.
You can only use this guide for the International version of the Desire Eye smartphone. That means you cannot use this for the AT&T variant of the smartphone or any other smartphone under a completely different name.
BEFORE WE BEGIN
You are voiding the warranty of your HTC smartphone every time you install a custom recovery image on it. That means you cannot send it away for free repairs after following this guide.
HOW TO INSTALL CWM ON HTC DESIRE EYE (INTERNATIONAL MODEL ONLY)
Setup ADB on Windows PC. You can also get the ADB Drivers.
Completely Power off the Eye smartphone by holding in the Power key for 10 seconds and letting go.
Boot the Eye smartphone up again in Fastboot mode.
– press the Power + Volume Down keys at the same time.
Use the Volume buttons to move up and down and hover over the Fastboot option from the new menu.
Once in the desired Fastboot Mode, you can connect it to the Windows PC via the USB cable.
You should now see Fastboot change to Fastboot USB.
Download the ClockworkMod Recovery file from this source.
Extract the folder on the desktop. You'll find the cyangenrecovery_eyeul.zip file inside. That's the file we want to use, but first we should shorten the file name by right-clicking on the file and selecting to rename it. Now choose something easier such as recovery-eye.zip.
Open the command prompt from the same location that you have the recovery file. That means clicking the right mouse button while holding Shift down from inside that folder and selecting to open the command window here.
Now type this command: "fastboot flash recovery cwm-eyeul.img", followed by this "fastboot reboot".
That's all you need. Now you can boot the handset to Fastboot mode from the same steps as above as select to enter the recovery Mode from the menu.
Related Posts