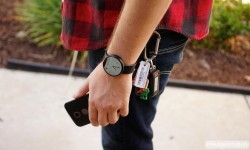 Google is planning to bring Android Wear support to the iPhone since the Apple Watch is having about as much success in taking over the smartwatch market as it did the smartphone market. We always thought that we would have to choose one of the two platforms — Apple or Android — to go with our smartphones and smartwatches, but that isn't always the case. Now you can connect the Moto 360 Android Wear with iPhone and there's no need to use a jailbreak or a Cydia tweak to get it done. Here's how:
REQUIREMENTS
You need an Android with Android Wear support.
The Moto 360 smartwatch.
The iPhone or iPad you wish to connect it with.
Not all iPhones and iPad will work with this trick. If your iOS device is too old to work with the Apple Watch, it probably won't work with Android Wear either.
HOW TO USE THE MOTO 360 SMARTWATCH WITH IPHONE WITHOUT A JAILBREAK
Download the Wear Connect for iOS tool.
Turn on the Moto 360 and strap it to your wrist. Now launch the Wear Connect app from the 360 smartwatch.
From inside the Wear Connect application, turn on the iOS service.
Swipe left over the disconnected notification on the Moto 360 smartwatch and follow the on-screen instructions to connect the smartwatch once again with the iPhone or iPad.
Download the BLE Utility directly to the iPad or iPhone of your choice. Continue to install it and then run the BLE utility program.
Tap on the Peripheral tab from inside the BLE Utility.
Now look back on the Moto 360 and tap the menu option.
Follow the steps to enter the PIN number to connect.
Now once the Pin number is entered you have the Android Wear smartwatch connected with the iPhone or iPad.
Related Posts