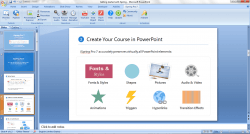 One of the problems when it comes to using PowerPoint presentations is that they don't load properly on mobile devices. Plus, you can't properly load them on your computer unless you have a compatible program like Microsoft Office PowerPoint. In addition, converting a PowerPoint presentation into another format like PDF will result into the loss of its core and interactive features. Fortunately, there's a way to create mobile-ready presentations out of your PowerPoint slides and still keep its trigger animations, transition effects and other key features. All you need is a simple but powerful PowerPoint add-in called "iSpring".
What Is It and What Does It Do
Main Functionality
iSpring is a Microsoft PowerPoint add-in that lets you create mobile-friendly presentations for any device and platform. By default, it will let you convert your presentation into Flash/HTML5 format so that it can be loaded on any device or computer. Since iSpring is an add-in, you can use it right within PowerPoint. It is also designed to precisely retain all of the key features that you've included in your presentation including fonts and styles, transition effects, triggers, animations, embedded multimedia, right to left languages, shapes, hyperlinks, etc.
Pros
User-friendly interface – functions as an add-in to MS PowerPoint
Compatible with most PowerPoint versions (supports MS Office 2007, 2010 and 2013)
Fast, responsive and stable
Efficiently converts PowerPoint slides into online presentations in combined Flash and HTML5 format
Virtually preserves every important PowerPoint element
Users are free to explore and edit the presentation structure
Supports audio and video narration
Allows users to embed YouTube videos, web objects and Flash movies into their slides
Users can preview their slides before publishing
Users can optimize their published presentations for Web, CD, Cloud, LMS and local video file
Ideal for users who wish to load presentations on their laptops, desktops, tablets, iPads, iPhones, Android devices and Windows devices
Supports custom branding and navigation
Users can add watermark and password protection to their mobile-friendly presentations
Offers preview options for desktop, tablet and mobile platforms
Offers a free 30-day trial version
Cons
Discussion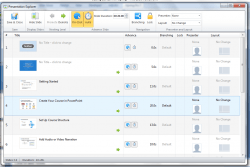 The way how iSpring works is quite easy. You download the installer from its official page and run it on your computer. Remember, you'll need a license key to activate the add-in.
After the installation is complete, just double-click the iSpring icon on your desktop to launch it on MS PowerPoint. Do note that the add-in will automatically add another tab to your PowerPoint ribbon. If you click on the iSpring Pro 7 tab, you'll be able to find certain tools and options that you can use to create a mobile-friendly presentation.
So what's next? Just load and edit any presentation that you want on PowerPoint. You can even create a presentation from scratch. Of course, do not forget to save your presentation first and then click the "Preview" button on the iSpring tab. This will allow you to preview your slides before publishing your presentation for Web.
So once everything is all set, just click the "Publish" button on the iSpring tab and then choose whether you want to publish your presentation for Web, Cloud, CD or LMS. You can also opt to save your presentation as a local video file. Click "Publish" to confirm and then wait while the add-in converts your slides. By default, iSpring will publish your presentation for Web in a combined HTML5/Flash format but you can also customize the settings according to your own preferences.
Once done, you have the option to preview your presentation in such a way that it would usually appear on your desktop, tablet or smartphone. If you want, you can directly view the presentation on your web browser. You can also upload it via FTP or attach it to your email.
All in all, iSpring proves to be a worthy tool for presentation creators. It's simple, efficient and reliable. It also retains the quality and other core features of your slides including the font styles, animations and transitions. I also like the fact that I don't need to wait for too long for it to process and convert my slides.
Conclusion and Download Link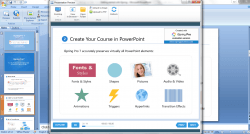 What iSpring offers is the ultimate solution to multi-platform PowerPoint presentations. It will definitely help you publish and optimize your presentations according to how you want it to appear regardless of the platform or device. It is also feature-packed. So far, I haven't noted any major drawbacks from it. Plus, I really like the fact that it is so convenient and easy to use. So whether you're creating presentations for educational or business purposes, you should definitely give this tool a try.
Price: Free 30-day Trial, Pro – starts at $497
Version reviewed: 7.1
Supported OS: Windows XP, Vista, 7 and 8 (32- and 64-bit editions)
Download size: 463KB
VirusTotal malware scan results: 0/57
Is it portable? No
Related Posts