Windows 10 is coming out this summer and Microsoft is offering free copies to loyal partners who already own Windows OS. Some people who are already running Windows 7 and Windows 8.1 have received an email from the Redmond company about how to reserve theirs. However, not all people have received the email. As long as you have a copy of Windows 7 or 8.1 activated on your computer, you can reserve your spot for the Windows 10 upgrade manually instead of waiting around for the email and continuing to drop further down the list of names. Here's how:
REQUIREMENTS
You must have at least Windows 7 with service pack 1 installed. If you are running Windows 7 but don't have service pack 1, you can easily install it now without any charge from Windows update.
Those of you running Windows 8 will need to upgrade to Windows 8.1. The 8.1 software update is available from the same Windows update utility. Once done, you want to make sure you've updated 8.1 again to the KB3035583 update which arrived in March. Find that here. Alternatively, enable Windows Automatic Updates and you will have the requirements already installed. Everyone else is good to go.
HOW TO RESERVE YOUR COPY OF WINDOWS 10
1. Once you have updated to the software requirements mentioned above, you will see a Windows icon available from the taskbar and a new Window opening up that looks just like the one featured below.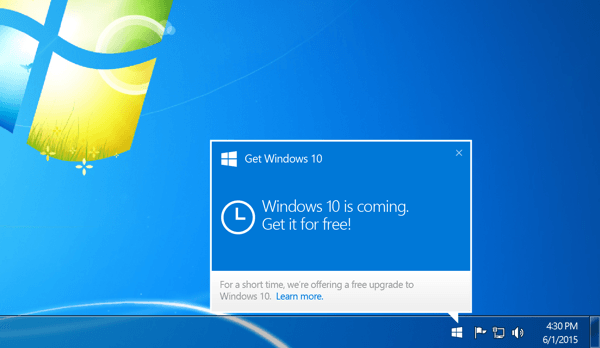 2. Click on the "learn more" option on the screen with the blue link just after it states they are offering Windows 10 free for a limited time. Continue clicking through the screens until you get to the last screen asking for your email address.
3. Enter your email address. Those with a few different email address can enter any email. It doesn't have to be the one you think might be associated with Microsoft or a current Windows OS. Just make it one where you will get pinged and can access.
4. It will now say "send confirmation" after you give your details. You must click the link and confirm that from inside your email account.
You are now registered in their system and have Windows 10 reserved for its release during July this year. You can also cancel that reservation by clicking the same Windows icon from the taskbar. Now click the three lined icon in the top corner, followed by "cancel reservation."
Related Posts