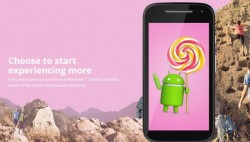 TWRP recovery is your gateway to what many regard as the greatest custom recovery available for the Motorola Moto E budget smartphone. People love it for it's touch-based UI and ease of use. Without a custom recovery installed, you can't do much with your root access unless you just want to check out the root-only apps available from Google Play, so let's check out how you can install TWRP on Moto E 2015 LTE with encryption support.
REQUIREMENTS
Understand that there are a few different versions of the Moto E that came out in 2015. Only one of them is the LTE variant. That's the one you want to follow this guide.
BEFORE YOU BEGIN
Install ADB and Fastboot on Windows PC by following that a guide. You don't need to do it twice if you already have it up and running. Those of you with Macs can find a different guide for setting up ADB.
You must unlock the Moto E 2015 bootloader before starting the guide. There's no way of doing this guide without unlocking the bootloader and voiding the warranty.
Download the Motorola USB Drivers from our page. Smartphone USB drivers such as the ones here for Motorola don't usually work unless you reboot the PC. You might prefer to give the guide a go and if the connection fails, reboot the Windows PC and trying again.
HOW TO INSTALL TWRP WITH ENCRYPTION ON MOTO E 2015 LTE
Download the TWRP Recovery file from this page.
Enter Fastboot or Bootloader mode: completely power off by holding down Power, reboot holding Volume Down for 5 seconds, followed by holding Power key for 3 seconds. You are now inside Fastboot mode, which is also known as Bootloader mode.
Connect the Moto E 2015 to the Windows PC with the USB cable.
Open the file where you have the TWRP recovery installed on the Windows PC.
Right-click the mouse and hold Shift in a blank area from within the folder where it's white and a new menu should appear. Select to open the command window here from that menu.
Type the first command: "fastboot flash recovery recovery.img".
– it is now flashing TWRP to your smartphone.
Type the final command: "fastboot reboot" and your handset is now rebooting itself to the normal OS mode so you can use it again.
You are now capable of entering the TWRP custom recovery instead of the stock recovery mode.
Related Posts