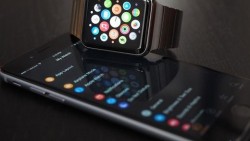 The Apple Watch is out now and breaking most people's expectations regarding popularity if nothing else. Just like your iPhone, you can update the Apple Watch software when new software releases arrive. Doing so will hopefully come with bug fixes to your existing software, new features, other improvements, enhancements and more.
REQUIREMENTS
You need the iPhone to pair with the Apple Watch. It can only be one of the recent models that is known to work with the Apple Watch. Earlier generations such as the iPhone 3GS will not work.
Make sure you have at least 55% battery on the Apple Watch before starting the guide.
HOW TO UPDATE THE APPLE WATCH SOFTWARE TO NEW OS VERSIONS
Turn on the iPhone and launch the Apple Watch app.
Glance toward the bottom of the 'My Watch' list and select General.
You'll get another screen to the right side, select Software Update from there.
Wait for the app to ping Apple for any available software updates.
Have the Apple Watch close and connect it so it's charging the battery.
Tap the Download and Install options on the Watch face.
Wait for the firmware/software to finish downloading to the watch.
The circular progress bar will display on the Apple Watch face as it's installed. Wait until it finishes installing.
That's all done. Now you can hopefully enjoy the latest version of Watch OS from Apple. Note that you won't always have software updates ready for installing every time you check. You will need to wait until a public release is launched before it's worth checking. You will likely get one major release per year with several smaller updates in between, similar to what you get with the iPhone and iPad.
Related Posts