The 'Do Not Disturb' feature was faded out of Android during the final stages of Lollipop. It's now making a return in the latest Android M software update soon to hit a bevy of devices. The same feature never went away from iOS software and is still readily available to toggle on and off in iOS 8. My screenshots below are using iOS 8 and not the latest iOS 9 beta 1. However, it will likely remain a feature heading into the future.
Here's how to enable the 'Do Not Disturb' feature on iPhone:
HOW TO TOGGLE THE DO NOT DISTURB FEATURE ON AND OFF
Turn on the iPhone and open the Settings application. You should see a similar list to mine below: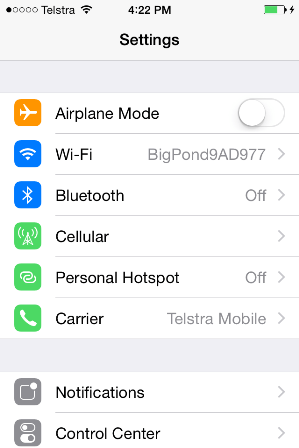 Scroll down the list until the screen changes and shows some more options. Stop when you can see the blue moon with the words "Do Not Disturb" next to it. Tap to open this option.
The image below shows you what you'll see inside. You have the manual option, the chance to set a schedule and the ability to allow calls from certain contacts and the last option for repeated calls. By toggling the manual option, it will enable the feature so you never get noise from calls on alerts when the passcode is locked.
You can also toggle the scheduled switch over so it's green and set a certain time you want the 'do not disturb' feature to work. For example, if you know you are in a meeting tomorrow morning between 1 am and 12 pm, you can insert that time and it will automatically enable the feature during that hour.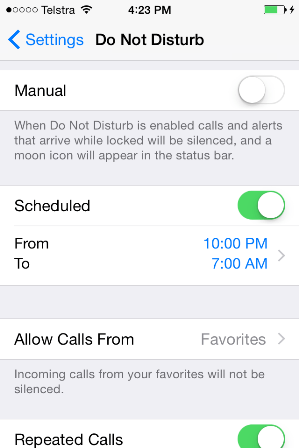 Related Posts