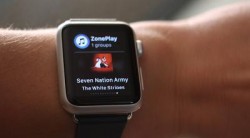 The Apple Watch offers numerous features that let you take control of a situation from your wrist and not on your iPhone. Adjusting music preferences is one of those. With just a few taps Apple Watch owners can easily adjust music. However, it's not possible to adjust everything to do with your music. For example, if you listen to music from the Sonos Playbar, there wouldn't usually be anything you can do to help that because Sonos doesn't come with an Apple Watch application — yet anyway.
HOW TO CONTROL SONOS SPEAKERS ON APPLE WATCH
1. Download ZonePlay from iTunes.
2. Download the app direct to your iPhone you use with the Apple Watch.
3. You don't need to download apps directly to the watch. After downloading them on the iPhone it will automatically begin working on the Apple Watch, providing that it is compatible.
4. The ZonePlay app will allow you to play current queues and anything that's available in the music library. However you cannot access music from any other Sonos sources just yet.
5. Once you have the ZonePlay app open on your watch, you'll easily understand what to do.
Related Posts