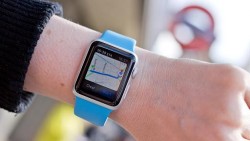 We all know the Apple Watch helps us be more efficient with tasks that no longer require us pulling out our iPhone's from our pockets, but did you know it also has amazing driving upsides too? While I don't recommend the world looks down at their wrist while driving all day, I do see some occasional upside for the right person who might sneak in a quick glance to check where they are and where they need to go on the road with maps. Furthermore, any longer than a quick glance and you can just pull over and check the watch face properly.
If you think that all sounds too good to be true, don't. Apple has purposefully made a built-in Apple Watch map navigation ready for you to use. It's all currently legal and above board so let's check out how to use the maps.
HOW TO CHECK WHERE YOU ARE DRIVING WITH MAPS ON APPLE WATCH
1. Raise the arm that has the Apple Watch on the wrist toward your mouth and say the words "Hey, Siri."
2. Press down the digital crown.
3. Say "where am I" and Siri will give you the answer.
4. Look down at your watch face and the map will be on the display. Furthermore, you can also tell Siri to take you home or take you to any location that Siri already knows.
5. You can check the map silently without having to talk too! Press the digital crown and swipe to activate the "glances" feature.
6. Keep swiping until you see "Map Glances" and press the option for maps. Now it will launch the maps app on your watch display.
Related Posts