If you don't have the appropriate tool or software, it can be difficult to fill out digital forms especially if they are formatted as PDF. Of course, there are tools that can help you convert a PDF into a fillable form. Now, if you're looking for a free online PDF to fillable form converter tool, just go ahead and read the steps listed in this post.
How to turn any PDF into a fillable form online
First, you need to go to "Paperjet". It is an online tool so you can just load it on your web browser (ex. Chrome, Firefox, Safari, etc.).
Once you're on the Paperjet page, sign up for a free account and then sign in to view your dashboard.
After signing in, you'll immediately see the available options on your online dashboard. As you can see on your dashboard, the main menu is on the left and opposite of it is the list of your converted forms.

So if you want to turn any PDF into a fillable form, you just drag and drop the PDF file that you want on the field provided. You may also use the "Browse" option to manually search for the file that you wish to convert.
Once the PDF file has been successfully added and converted into a fillable form, it will automatically appear on the list.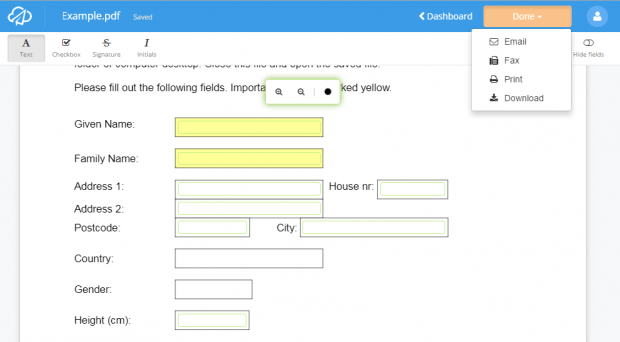 To view the converted file, just click on it and as you can notice, there are clickable fields and click boxes. So just use the tools provided to fill in the form and once you're done, you may download, email or fax your document to your contact or client.
Related Posts