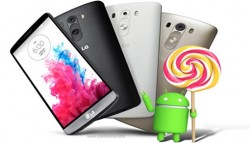 Android 5.0 Lollipop is now available for the LG G3 handsets worldwide and many people are wishing to root the new software update. Earlier exploits used for gaining root privileges on older builds have now been patches and you'll need to sought after a different guide like the one we have here for you today.
BEFORE WE BEGIN 
Download and install the LG USB Drivers on the Windows PC. The universal LG drivers will ensure that your device easily connects to the computer. You may need to reboot the PC after downloading the drivers for that to happen. Requiring up-to-date drivers is by far and away the most common cause of unsuccessful rooting procedures, so come back to this step if it's not working for you.
Your G3 might not yet have the Developer Options unlocked so you can access it from the Settings. Go to the About Device menu and tap your finger over the firmware build number 7 or 8 times and it will unlock the Developer Options menu.
Navigate back out of there and you'll now see the Developer Options in the Settings menu. Tap to enter the new list and you'll see a box for the USB Debugging Mode. You must enable that mode so you can connect to the computer.
You do void the warranty following the rooting guide below. You'll probably get the warranty working once again if you choose to unroot the G3.
The guide is only for advanced Android users. Those of you without experience on getting out of boot loop and other potential dangers should not go ahead.
HOW TO ROOT THE LG G3 D858 ON ANDROID 5.0 LOLLIPOP
1. Download the One-Click rooting tool from here. If that version doesn't work for you, please download the older version 1.2 of the same tool from here.
2. Extract your version of choice to the desktop of the Windows computer.
3. Connect the LG G3 variant to the same computer as the file.
4. Double click the executable file that's available from the desktop which you extracted earlier and it will run a rooting tool.
5. You'll find a pop-up that looks similar to the command prompt. read the instructions in that command window to successfully complete flashing your device with the rooting file.
6. That's all there is to it. Thankfully, this One-Click G3 rooting package is far easier than some of the older methods we had to use in the past for Android KitKat.
Related Posts