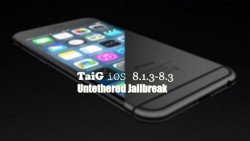 The iOS 8.3 jailbreak using TaiG was officially released yesterday. Popular hackers such as Stefan Esser aren't shy about showing their displeasure with such jailbreaking tools being released to the public. Today we have some insight as to why a rushed jailbreaking tool isn't great with yesterday's version of TaiG coming out without any support for Cydia substrate.
Last year things were so bad that the Pangu team didn't even communicate with Jay Freeman before their released their jailbreak. The time before that we knew P0d2G and the Evasi0n crew also left Cydia in the dark and sold out to the Chinese app store that later we found out came with a bunch of malware that P0d2G denies knowing anything about. While we do believe P0d2G wouldn't have done that, it's another reminder about how sometimes we do need to be patient and wait for a proper release.
The great news is that if you are about to jailbreak iOS 8.3 using TaiG today, you can now do it without many of the problems people encountered yesterday. Moreover, as I told you before, you can get it done with the Cydia substrate too.
HOW TO ENABLE THE CYDIA SUBSTRATE ON IOS 8.3 JAILBREAK BY TAIG
1. Download the TaiG 2.0 Jailbreak tool.
2. Follow the guide on how to jailbreak iOS 8.3 using TaiG 2.o on iPhone, iPad and iPod touch. Mac users click here.
3. Install the iFile from the Cydia app.
4. Force close the Cydia app.
5. Download the TaiG 8.3 untethered deb download file here.
6. Tap the "Open" option inside iFile.
7. Tap the "Install" option.
8. The file will now flash to your iOS device. Once done, please reboot the device manually.
9. After the reboot process completes, you should have the problem solved.
Related Posts