In Firefox, you can easily open and load links in a new tab. The thing is what if you just want to open the page in a new tab without actually loading it? This way, you can stop those pages with embedded media (ex. YouTube videos) from automatically playing. The page will only load as soon as you switch tabs. If this is what you want, then just read and follow the steps listed in this post.
How to open links in new tab without loading the page in Firefox
Open your Firefox web browser.
Click here to download and install the "Open Link in Silent Tab" add-on on your web browser.
When prompted by the installation dialog, click "Install Now".
Once installed, you are not required to restart your browser. The add-on will automatically take effect by adding a new option to your Firefox browser's page right-click menu.
So what do you need to do next? Simply open a page with links and then right-click on any link that you wish to open in a new tab.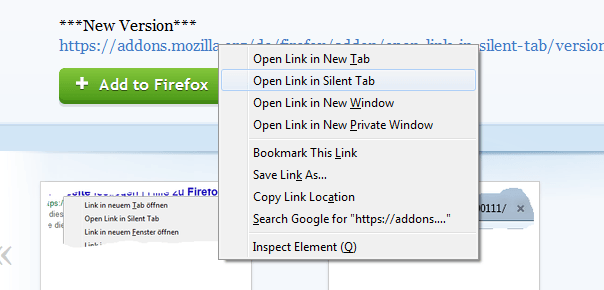 On the right-click menu that appears, select "Open Link in Silent Tab".
That's it. The link will be opened in a new tab but it will not be loaded until you switch tabs.
Keyboard shortcuts
If you prefer to use keyboard shortcuts when opening a link in a silent tab, just press "Ctrl + Alt + left-click" and you're done.
Related Posts