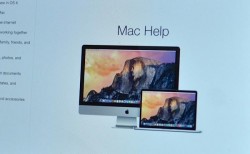 There are many reasons why people buy Mac's and I don't have time to list them all here. There are a few more common reasons why they fly off shelves. Some people shop for Apple's Mac computers because they hear they don't come with viruses. Others have a passion for technology and wish to see what all the fuss is about. After opening a brand new toy, we often toss the user manuals aside as we are just far too excited to punch the keys on our new machines.
Using a combination of that knowledge, and some additional practical reasons, Apple Mac's do not come with a user manual. Instead, they offer a help menu built-in the operating system (software) for people to check if they need. While that's all well and good, not all people know how to find where that help menu is. If you fall into that category, here is your answer:
HOW TO USE THE HELP MENU ON MAC OS X
1. Look at the top of the screen and click the "help" button.
2. The next screen will offer a search box. Type the search query into the box and press enter on the keyboard.
3. You'll get a results page showing you any pre-written information Apple has written on the subject.
If that doesn't answer your question, you can tackle it one step further.
4. Choose the "Mac Help"  for other information about connecting to the internet, how to print documents, how to pair the Mac with other iOS devices and more.
5. Directly below the "Mac Help" menu is the "Get To Know Your Mac" page. Clicking that option will guide you to Apple's website where they have more information.
6. Mac help is the most useful part here and you can use it within a Mac application too.
7. From inside any Mac app, click the Mac help option from the menu again.
The contents of the Mac help will now change depending on what app you are inside for a more efficient results page.
Related Posts