In Firefox for desktop, you can find the "Quit" or exit button at the bottom of its menu. It's very useful in a way that you can easily close your browser despite of having so many tabs left unclosed. The thing is it is not a feature that is available in Firefox for Android by default. Yes, that's right. If you're using the Firefox mobile browser, you'll have to do the following steps first before you can get the Quit option to show up on the menu.
How to add a Quit option to Firefox Menu in Android
Open the Firefox app on your Android smartphone or tablet.
On your Firefox app, tap the Menu icon on the toolbar at the top and then on the menu that appears, select "Tools" > "Add-ons".
On the Add-ons tab, select "Browse all Firefox Add-ons".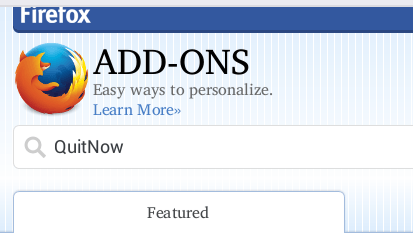 On the Add-ons list, look for the search bar and the search for the add-on called "QuitNow". For an easier alternative, you may just open this link on your Firefox mobile browser.
Once you're on the QuitNow page, tap "Add to Firefox".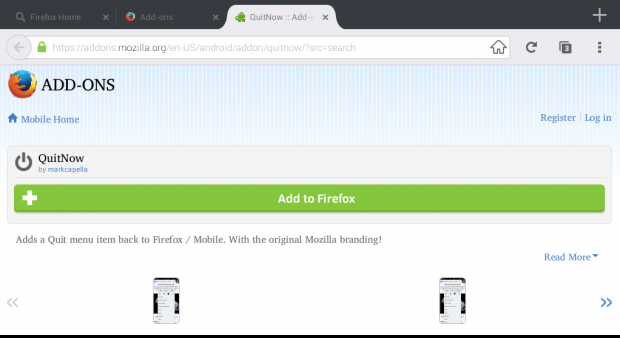 Upon seeing the "Installing Add-on" prompt, tap "Install".
Once done, you'll get a notification and you may confirm it by going to the Add-ons tab. By default, the QuitNow add-on will be automatically enabled but you can also choose to temporarily disable it whenever you want.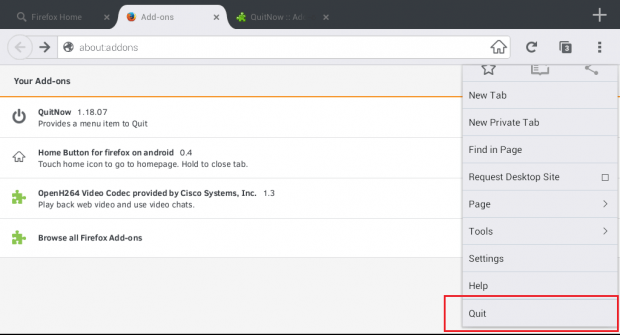 So that's it. All that's left for you to do is to check whether there's really a Quit option on your Firefox Menu and you're done!
Related Posts