If you want manually to reload a tab in Firefox, you just have to open the Tab context menu and select "Reload Tab". You can also choose to reload all open tabs in a browser window by selecting "Reload All Tabs". The thing is what if you want to automatically reload tabs at given time interval? Sadly, there's no default option for that but there's a simple workaround.
How to add auto reload options to Tab context menu in Firefox
First, open the "Tab Auto Reload" add-on page on your Firefox web browser. Once you're on the said page, click the "Add to Firefox" button to download and install the add-on to your browser.
When you see a dialog box, just click "Install" to confirm.
Once installed, the add-on will prompt you to restart your browser. So just click "Restart Now".
After restarting your browser, the Tab Auto Reload add-on will automatically update your Firefox Tab context menu.
So whenever you want to automatically reload any of your open tabs, just right-click on the tab title area and on the menu that appears, select "Reload Tab".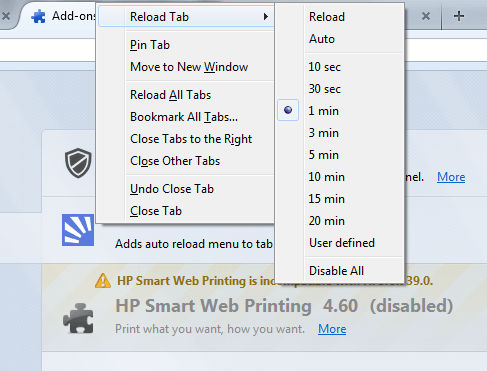 On the sub-menu for Reload Tab, select "Auto" and then set your preferred reload time interval. You can set the reload time to 10 seconds, 30 seconds, 1 minute, etc. You can even set a custom reload time interval.
After setting the reload time, the specified tab will automatically reload. You can also set different reload times for each tab.
To restore the tab reload behavior back to normal, just open the "Reload Tab" menu again and then uncheck "Auto". If you want to disable all automatically reloaded tabs, just select "Disable All".
So that's it. You're done.
Related Posts