Do you use multiple browsers while browsing the web in Android? Are you using both Chrome and Firefox? If your answer is yes, then haven't you thought of a way to easily open a page from Firefox with Chrome? For example, let's just say that a page fails to load properly in Firefox so you decided to try and open it with Chrome. If you follow the usual way, then you need to copy the page URL first and then paste it in Chrome. Well, there's a Firefox mobile add-on that lets you do that in just a tap of a button!
Before we start:
Make sure that you've already installed the Firefox and Chrome apps on your Android tablet or smartphone.
How to open Firefox pages with Chrome in Android
On your Android device, open your Firefox mobile browser. After which, go here to view the download page of "Open with Google Chrome". It's a free Firefox for mobile add-on. It works with Firefox for Android versions 29.0 to 42.0.
Next, press "Add to Firefox" to install the add-on to your browser. When prompted, select "Install".
Once installed, the add-on will automatically add a Chrome button right inside your Firefox address bar. It will also add an "Open Page in Chrome" option to the Firefox main menu.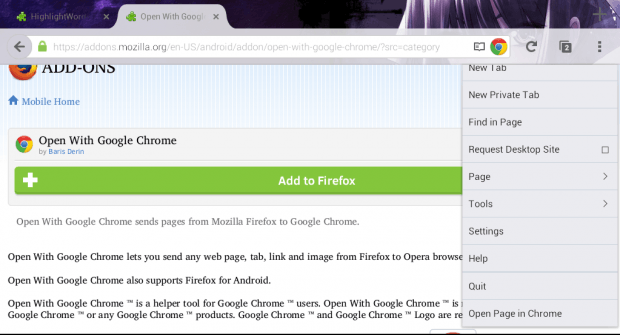 So what's next? Just load any web page or site in Firefox. While loading that page, tap the Chrome icon in the address bar or select the "Open Page in Chrome" option in the Firefox main menu.
That's basically it. The page that you've selected will automatically open in Chrome. You can easily switch back to Firefox using your device task manager.
Related Posts