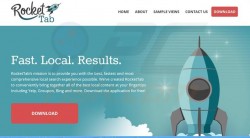 There's a new Adware "virus" in town, namely RocketTab ads causing havoc across many Windows PCs. If your Windows PC is infected, we'll show you how to remove RocketTab ads from a computer for free.
REQUIREMENTS
You need to be using the Windows PC that has the suspected virus.
The tool we are using today is free to download and use. You are not prompted to make any payment before it helps solve your problem like most other tools.
HOW TO DELETE THE ROCKETTAB ADWARE FROM YOUR COMPUTER
Removing the program
Navigate to Start > My Computer > Add or Remove Programs/Uninstall Program.
Wait for the list to populate.
Scroll down the list until you find RocketTab.
Click and follow the on-screen commands to uninstall RocketTab.
– Uninstall the RocketTab carefully, as the process might require you to click the "next" button several times. During theses times you might accidentally install other malicious programs unless you watch closely.
Now the program is removed it's time to run the free Adware Cleaner and find any hidden files that can cause it to come back.
Download Adware Cleaner to delete hidden files 
Download the AdwCleaner tool from here.
Click the tab that appears just above the taskbar and continue installing the tool.
Run the tool once the download is complete and you'll be greeted with the main user interface.
Click the Scan button and the tool will successfully scan your computer for viruses.
Click the Clean button after the scan is complete and it will now remove all infections.
During the cleaning process, you might get asked to close any browser tabs tha tare open so it can do the job properly. Follow the guidelines and close the browsers.
After the scan is complete, the tool will ask if it can reset the computer. Allow the reset now and log back in to your account.
A log file will pop up on the computer's display and show all the infections it cleaned during the scan.
Related Posts