What's great about the Firefox mobile browser for Android is that just like its desktop counterpart, it also supports add-ons. Speaking of which, it also features a mode where you can read posts or articles in clean view or "reader view". The thing is what if you're reading a lengthy post or article? For sure, there will be times where you feel like re-reading the earlier sentences or paragraphs. In that case, you still need to scroll all the way to the top of the page unless, of course, you follow these steps listed below.
How to quickly go to top of page in Firefox for Android
First off, you need to open this link on your Android device using your Firefox mobile browser.
After which, you will be taken to the official add-ons page for "Go To Top Menu". On the said page, simply press the "Add to Firefox" button and then select "Install" on the installation dialog to confirm.
Once you've successfully installed Go To Top Menu, simply load or open any web page or article in a new tab. It's totally up to you whether to load that page in normal view or reader view.
So once the page is fully loaded, scroll all the way down to the bottom section.
Once you're on the bottom part of the page, you can quickly go back to the top by pressing the Firefox Menu icon and then on the list that appears, find and select "To Top".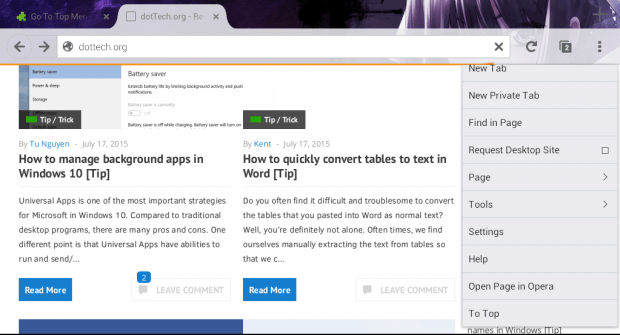 That's it. You will be automatically taken back to the top portion of the page so you no longer need to strain your fingers by frequently scrolling up!
Related Posts