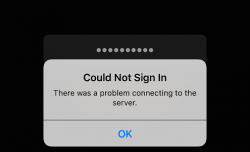 The Apple Watch made news headlines again last week for outselling what Apple had initially predicted, which is great news for those who invested in a watch themselves. As with all new bits of technology, it takes awhile to get to know the device properly and there will be a few times you need to solve some problems. If you are experiencing the common "there was a problem connecting to the server" issue when setting up the Apple Watch, here's how to fix it:
REQUIREMENTS
The Apple Watch
The Apple iPhone with the Apple Watch app pre-installed.
HOW TO FIX THE ERROR MESSAGE 'THERE WAS A PROBLEM CONNECTING TO THE SERVER" DURING APPLE WATCH SET UP
Close the Apple Watch app on your iPhone.
Open the Settings app.
Open the Messages panel.
Turn off the "iMessage" option by toggling the option to the left.
Go back to settings up the Apple Watch with the iMessage option disabled.
Wait until you finish the setup process for the Watch before opening the Settings app once again and enabling the switch for iMessage again. Do that by toggling the switch to the right.
That's all you need.
Related Posts