Today is the first day Microsoft pushes out Windows 10 to millions of users around the world as a free upgrade from Windows 7 and Windows 8.1. This article lists everything you should know about this new operating system before you decide to make a jump.
Everything you need to know about Windows 10
What is Windows 10?
Windows 10 is the latest operating system from Microsoft three years after the release of Windows 8. There is no Windows 9. This new version of Windows is often called a combination of Windows 7 and Windows 8. You'll see familiar elements from Windows 7 and Windows 8's touch-based features. With Windows 10, Microsoft rights many wrongs they made with Windows 8. The other important thing about Windows 10 is that it's the last Windows operating system for Microsoft. As the company called it "Windows as a service," Windows 10 is technically a work in progress, it'll never be done and users will get updates along the way.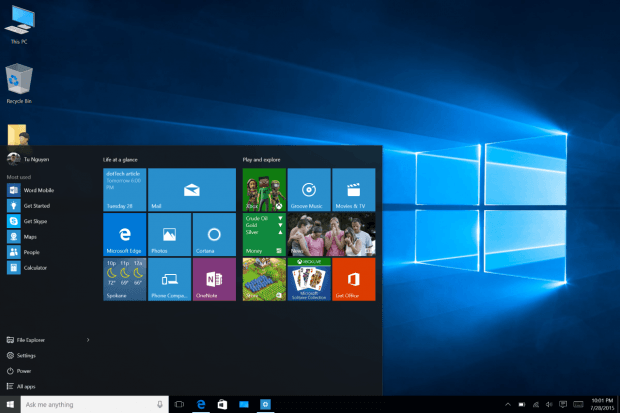 Windows 10 system requirements
Processor: 1 gigahertz (GHz) or faster processor or SoC
RAM: 1 gigabyte (GB) for 32-bit or 2 GB for 64-bit
Hard disk space: 16 GB for 32-bit OS 20 GB for 64-bit OS
Graphics card: DirectX 9 or later with WDDM 1.0 driver
Display: 800×600
What's new in Windows 10?
There are so many new things in Windows 10. The most famous one is probably the return of the Start Menu. It's now the combination of Windows 7's Start Menu and Windows 8's Start Screen. Other noticeable things are the revamped Settings app, the personal assistant Cortana, and Action Center. The new Microsoft Edge web browser is also a selling point in this Windows.
For Windows power user, the long-awaited multiple desktops and Snap Assist are great for multitasking. While correcting the wrongs of Windows 8, Microsoft don't forget to bring the best of touch-based features to Windows 10 with Tablet mode.
Free upgrade to Windows 10
Windows 7 and Windows 8.1 users will get Windows 10 for free from July 29. The strategy is that Microsoft wants as much as customers upgrade to the latest version of Windows. This will also be a boost to their Universal Apps ecosystem.
You'll be upgraded to the appropriate version of Windows 10. Here's the upgrade path.
| | |
| --- | --- |
| From | To |
| Windows 7 Starter | Windows 10 Home |
| Windows 7 Home Basic | Windows 10 Home |
| Windows 7 Home Premium | Windows 10 Home |
| Windows 7 Pro | Windows 10 Pro |
| Windows 7 Ultimate | Windows 10 Pro |
| Windows 8.1 | Windows 10 Home |
| Windows 8.1 Pro | Windows 10 Pro |
If you're running Windows RT on devices like the Surface RT and Surface 2, Windows 10 won't be available for you. However, an update this fall will bring some Windows 10 features, including the Start Menu, to your Windows RT device.
How to reserve your free Windows 10 upgrade
Months before today, Microsoft started receiving reservation for Windows 10 upgrade. You can reserve your free copy of Windows 10 by an app pushed out through Windows Update. Head here to know how to do that.
In case you haven't seen the "Get Windows 10" app shows up in your system, make sure you have Windows 7 SP1 and Windows 8.1 with the April update. If they app is still nowhere to be found, your device might not be eligible to upgrade to Windows 10.
Prepare for the upgrade
According to Microsoft, the upgrade will start on July 29 globally. However, it will be delivered in waves. That means not everyone get the bit of Windows 10 today, it could be a few days or even weeks later. So be patient.
When it comes to the upgrade time, it really depends on your device and how much stuff (programs, apps, personal files) that need to be integrated to the new system. For example, my one-year-old laptop usually took only 20-30 minutes to upgrade from build to build in Windows 10. While my three-year-old one took over an hour.
Before proceed the update, you can use the "Get Windows 10" app to check your system compatibility.
Also it's always a good thing to backup your current system and personal files before upgrading to Windows 10. In theory, the upgrade process won't remove anything, especially your files. But when it goes wrong, it goes terribly wrong.
After the upgrade
When the upgrade process is done, you'll be prompt to set some settings like your Microsoft account and Cortana. Note that there will be a screen that asks you to use Microsoft's express settings or to customize your own. I recommend you to customize the settings since there're many privacy, location settings you may want to change.
Congratulations if you're now in the Windows 10 desktop. But before doing anything, don't forget to check for update in both Windows Update and the Store. Microsoft has released many hotfixes for Windows 10 before July 29, so it's a good idea to make your new Windows 10 a little more polishing. Checking update in the Store also gets the newest version of Windows 10 core apps.
Windows 10 Tips and Tricks
Now you're ready for Windows 10. During the testing phase of this operating system, dotTech staff published a lot of how-tos and tips and tricks for it. We covered from basic things like how to setup Cortana and changing the system color to exciting tricks like getting colored title bar for desktop programs and accessing Desktop in Tablet mode. So keep an eye on this Windows 10 Tips and Tricks page to get new how-tos every week.
It's time for playing around with Windows 10! And don't forget to share your thoughts on this new and last operating system of Microsoft in the comment section below.
Related Posts