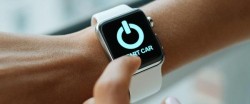 The Apple Watch is a new wearable that many think is only made for right-handed people. It does come with only one wrist in mind, but we can easily change the digital crown orientation on the Apple Watch and use it on our other wrist. Here's what I mean:
TIPS
The digital crown and the wrist section frequently go hand-in-hand. The digital crown and the wrist settings typically should work conversely, meaning if you have the wrist set to the left, you should have the digital crown set to the right.
HOW TO CHANGE THE WRIST YOU WEAR THE APPLE WATCH
Launch the Settings from the home screen.
Select the 'General' option available directly beneath the 'Do Not Disturb' option.
Select 'Orientation' from the next menu.
You'll now see left and right options available for the wrist and the same two options available for the crown.
Tap your finger over the two options you prefer. If you want it for the left wrist, tap the 'Left' option from the wrist heading.
We have plenty more Apple Watch guides you might be interested in so check out other guides. You might be interested in checking out how to change Apple Watch faces. Alternatively, check out some of the icons you see below.
Related Posts