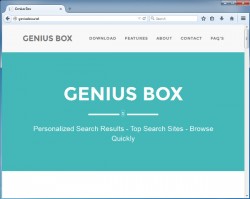 Ads serve a great purpose on websites. They offer the opportunity for people to be authors, editors, founders and so forth. Sadly, some websites abuse advertisements, and making matters even worse, some people create malware to infect your computers with viruses that follow you everywhere you go.
As dangerous as most malware is, a solution to the problem isn't ever too far away, with some of the best malware removal tools always being updated to help fight against new infections which help us remove the malware. The latest efforts come with learning how to remove GeniusBox malware. Here's how we do it:
HOW TO REMOVE THE GENIUSBOX MALWARE
Navigate to the control panel and click uninstall programs/add or remove programs.
Search the list for GeniusBox 2.0.
Click the uninstall option and follow the prompts to uninstall the program.
Be careful you watch the screen closely and uncheck any boxes that are designed to trick you into installing additional malware.
Close the control panel windows.
Download and install MalwareBytes.
Run the MalwareBytes scan to help remove any malware on your computer.
Leave the default Settings running on the program before you choose to start the scan.
Click the large blue 'Scan Now' option on the display.
Wait until you see the 'Threat Scan results' appear after the scan is complete.
Click the 'Remove Selected' option and the tool will get rid of the infections.
Those who want to check for more potential threats can download AdwCleaner from the official website. Run a scan and clean after opening the tool. It's a free tool and works like a treat for most computer adware infections.
Related Posts