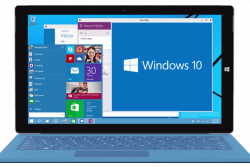 This year, Microsoft is changing the way it rolls out software updates for users by not having the new Windows 10 update readily available for users on the same day; you will have to wait several days until it finds everybody. If you have already visited the Windows Update Center and found it isn't available for you, there's a way you can force download the Windows 10 update.
Luckily, thanks to some tech-savvy Windows fans, we have a way anyone can force the installation and skip the waiting queue by following the guide below. I've tried this on my Windows Surface tablet and can vouch it does work. There are no current reports of it not working for other desktops or devices just yet. It should work for all of you.
REQUIREMENTS 
Make sure you have already reserved your free Windows 10 upgrade.
The guide is in reference to the free Windows 10 upgrade.
You must meet the minimum PC requirements for installing Windows 10.
You must be running Windows 8.1 or Windows 7 SP1 to be eligible for the free upgrade.
HOW TO FORCE A WINDOWS 10 DOWNLOAD MANUALLY IF THE AUTOMATIC UPDATE IS NOT READY
Check that you are able to receive automatic Windows updates. If that's disabled then you won't find Windows 10 waiting regardless.
Navigate to the Windows Update center.
Browse the C:Drive and delete everything in the C:\Windows\SoftwareDistribution\Download folder.
Make sure you are running in administrator mode and open the command prompt window. Type CMD from the search box to find the command prompt. Now you are ready to type some code.
Type the command: wuauclt.exe /updatenow.
Wait for five minutes.
Navigate back to the Windows Update and click the "Check For Updates" option.
Now you should find your free copy of Windows 10 is waiting to install.
Click the button to Download Windows 10 and then follow the regular guide on how to download and install Windows 10 Free on PC.
Related Posts