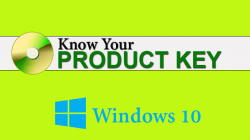 Although Microsoft tried extremely hard to simplify things as much as possible for simple Windows 10 installations, there are still many among us who wish for it to be even simpler. The Windows 10 product key thing in its entirety doesn't make it any easier and often contributes to the list of headaches and further features that require understanding to use the Windows platform.  The following guide is about to make that easier for you.
Here's how to find the Windows 10 product key and how to use the same key.
Notes:
There are several ways to update to Windows 10. If you are already running a genuine copy of Windows 7 or Windows 8.1 and were eligible for the free Windows 10 upgrade, you don't need to have a product key. Windows will verify your existing license with Microsoft and let you install the Windows 10.
Some people prefer to clean install Windows 10 like a true geek and reduce the chance of problems. You can clean install Windows 10 by using an ISO file and running the setup for a clean install. ISO's are available for DVD and USB drives. Windows will ask you for the product key during the clean installation. However, you can simply skip entering the details and it will continue to complete the installation. Microsoft still knows that it is you who is clean installing so you don't need to worry. They can pick up on the same hardware.
HOW TO FIND THE WINDOWS 10 PRODUCT KEY, PLUS ALL THE INFORMATION YOU NEED TO KNOW FOR HOW OT USE IT:
1. If you bought a genuine copy of Windows 10 from retail stores, you will have a product key inside the copy to use.
2. Those who cannot find the product key or lost it, can download Produkey from this link.
3. Open the third-party program and it will help find the product key on your existing installation.
Hopefully that helped avoid any confusion about Windows 10 product keys. Moreover, you need not worry about viruses within the Produkey third-party tool if you need to find a lost key.
Related Posts