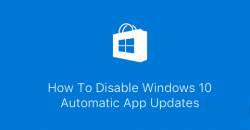 Automatic updates are designed to make your Windows life easier by automatically downloading and installing updates consistently as they arrive for your operating system. These updates come directly from Microsoft, as they always have developers working around the lock throughout the year to help build on the current Windows 10 experience and make it better. However, if you hadn't already guessed, it's not always that simple and sometimes allowing for these automatic updates can do more harm than good. In particular, the automatic updates can slow down the computer a great deal after booting it up, depending on how much power your PC has under the hood. From there, people's experience with Windows automatic updates can vary and differ a lot the longer you run Windows during the year as more variables on people's machines come into play.
Some people might not develop any issues with having the Windows 10 automatic updates running, while others might wish it wasn't running at all. While it's always a great idea to keep automatic updates turned on for the first few months, the older the operating system gets, the less it matters. While Windows 10 app updates are more specific than general software updates, they do operate in much the same manner. Here's how to disable them:
Notes:
The Automatic app updates we are referring to in this post is in regards to the apps from the Windows 10 store.
HOW TO DISABLE AUTOMATIC APP UPDATES ON WINDOWS 10
1. Turn on the computer with Windows 10 and launch the Windows Store app.
2. Look in the top right corner of the display and click on your profile icon.
3. Choose the Settings from the menu.
4. Scroll down the list until you see 'App Updates' and click the option.
5. Toggle the 'Update Apps Automatically' over to the off position.
The live tile is the other options directly below the updates toggle. Leave that option switched on unless you don't want to show the live products on the tiles.
Related Posts