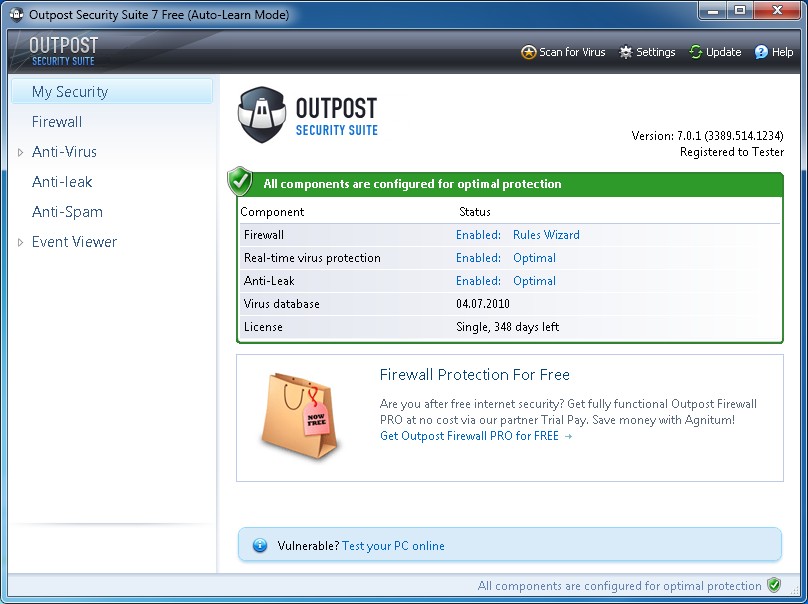 Many people were extremely disappointed when Agnitum stopped supporting Outpost Firewall Free, especially considering Outpost firewall is dotTech recommended. Well, friends, worry no longer. Last week Agnitum released Outpost Security Suite Free, the freeware version of Outpost Security Suite Pro.
Previously Outpost Firewall Free provided users with top-notch firewall services. Outpost Security Suite Free takes those top-notch firewall services and combines them with anti-virus, anti-spyware, and anti-spam features into one program.
Now, frankly speaking, as far as I know Agnitum writes it own engine but licenses VirusBuster signatures for the anti-virus and anti-spyware features of Outpost products. While it may be VB100 certified, VirusBuster is nothing special, falling in the middle of the pack when it comes to anti-malware software (Outpost Security Suite is always VB100 certified). However, the beauty of a security suite is you can disable the features you don't want to use and just use the features you want. In other words you can just use the firewall component of Outpost Security Suite Free without conflict if you feel you have a better anti-malware program. In fact, one of my favorite features of Outpost products is during installation they automatically detect if you have security software installed and automatically run themselves in "compatibility mode" disabling the features that may conflict. For example, if you have Avira installed Outpost Security Suite Free will detect that and automatically disable its live protection anti-virus and anti-spyware components. This sort of eagerness to work with other security software to avoid conflict on a user's computer shows a high level of wisdom on part of the Agnitum team and shows they prefer to do what is best in the interest of their customers as opposed to just selling products. I don't know about anyone else but this type of behavior puts a developer at the top of my list.
Although I would suggest using better rated anti-malware programs – such as Avast or Avira – for protection against malware, I highly recommend users use the firewall component of Outpost Security Suite Free. Without a doubt Agnitum makes one of the best firewalls out on the market today. Outpost firewall combines provides excellent protection without compromising in the area of user-friendliness. Outpost firewall has an intelligent, research backed database that it draws upon to recognize popular programs and automatically assign firewall rules to them. This makes the firewall much easier to use than other firewalls that constantly prompt the user every other minute. Of course this doesn't mean Outpost firewall will never prompt you but rather this means you will be prompted less than some other firewalls.
Another interesting aspect of Outpost Security Suite Free is it seems to be true freeware. In other words, no where does it say only home users can use this program or Outpost Security Suite Free can only be used for non-commercial purposes. I may be wrong about this but it appears like Outpost Security Suite Free can be used by anyone and everyone.
All things considered, Outpost Security Suite Free is a highly recommended product. You may grab it from the following links:
Version reviewed: v7

Supported OS: Windows XP/Vista/7 [32-bit and 64-bit]

Download size: 107 MB for 32-bit edition and 117 MB for 64-bit edition

Outpost Security Suite Free homepage

[Direct download 32-bit edition]
Update: You need to register Outpost Security Suite Free in order to use it. Registration is free.
Related Posts