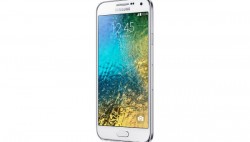 These are the instructions to enter download mode on Samsung Galaxy E5 smartphones. Download mode, otherwise known as Odin mode, is the mode you want to put your device in before connecting to the computer and flashing files. That job is most commonly done using the Odin flashing tool hence the phrase Odin mode sometimes preferred over download mode. The correct term for the mode is download and Samsung are the main company to use this term. You have to boot all smartphone into a similar mode before flashing files regardless of your phone manufacturer. However, most devices associated with a brand not named Samsung usually refer to the mode as Fastboot or Bootloader mode.
Download mode is most commonly used for flashing firmware files which people usually just know as software updates. You can get those updates coming into the device automatically thanks to a notification alerting you about an over the air update that's ready to be installed. However, there are reasons why some people do not want to accept those notifications and install over the air updates. Sometimes those with root access do not want to accept over the air updates due to the potential problems that can arise. Other times you want to flash a firmware file not necessarily to replace an OTA update but to unbrick or unroot a device.
BEFORE WE BEGIN
It's good practice to back up the Samsung Galaxy E5 whenever performing any operations that are official or custom operations. Not a great deal can go wrong when you enter download mode. Conversely, you can get stuck later down the track depending on what the reason is for you wanting to enter the download mode. For example, if you are wanting to enter download mode and then unroot the device, you should probably backup the data before attempting to do that job.
HOW TO ENTER DOWNLOAD MODE ON SAMSUNG GALAXY E5
Start by turning off the Samsung Galaxy E5 smartphone entirely by holding down the Power key.
There is a quicker way to turn off the E5 handset if your fingers are quick: press Power just once and release and then press the 'Switch Off' option on the display.
Now that you are sure the device is completely off, reboot it by holding the Power + Home + Volume Down keys.
The three button combination will lead you through to another screen. Once you see the text and a yellow warning triangle, you can let go of the Home + Power + Volume Down buttons combination.
Press the Volume Up button just once now and your Samsung Galaxy E5 will be in download mode.
That's all you need to enter download mode on Samsung Galaxy E5 handsets. You'll find that all handsets under the Samsung 'E' series are booted in the mode the same way. Any problems you face connecting to the computer now are likely due to the USB drivers not working. You should try rebooting the computer if you are sure that you did already download the drivers. Now you can continue with the guide you were following before coming here and learning how to enter download mode on Samsung Galaxy E5 smartphones.
Related Posts