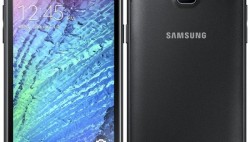 So you want to apply an update on your device but the Odin tool isn't working. It could be that you haven't yet booted your Samsung device in download mode yet. You see, without the download mode working, the device won't be in the correct mode for updating. That means whether you are installing firmware for an update, unbricking or rooting, the Odin tool won't work. Once you have the download mode working, you can then connect to the computer and your device will connect with Odin and other flashing tools.
The most common reason people want to enter download mode on Samsung Galaxy J1 devices is to install software updates. A software update should only be installed over the air on locked devices and devices already running official stock software updates. What I mean by that is if your device is running stock Android 4.4.2 KitKat, you can accept an OTA update and update to Android 4.4.3 KitKat. However, if you are rooted on Android 4.4.2 KitKat, you should not apply that OTA notification coming in to your device. You can install updates on the device with root access, but it should be done manually and using a flashing tool like the Odin flashing tool.
BEFORE WE BEGIN
If you are planning on reaching download mode on Samsung Galaxy J1 handsets, first you should backup the device. It doesn't really matter what way you get that done; try installing third-party apps from the Google Play Store if you prefer apps, use the build-in backup options if you prefer sticking with what Samsung offers. Those of you with root access might prefer Titanium backup.
You must have a computer along with the Samsung Galaxy J1 to make use of download mode.
HOW TO ENTER DOWNLOAD MODE ON SAMSUNG GALAXY J1
Quickly press the Power key if your device is on. Now select the 'Switch off' option from the Samsung galaxy J1 display.
Those of you with an unresponsive device can elect to long-press the Power button instead. By doing so you are turning the device off using the different method and working around the unresponsive display.
Reboot the Samsung Galaxy J1 holding the Volume Down + Home + Power buttons.
Keep pressing the Home + Power + Volume Down buttons until you can see the screen change. You should see a warning triangle and text on the screen.
That text on the display reads 'Press Up to enter download mode'. Do that now.
Your Samsung Galaxy J1 is now in download mode.
Now that you have booted the Galaxy J1 in download mode, you can connect it the computer and start using the Odin flashing tool to update, unbrick or root your device. Any problems you face from this point are probably related to the USB Drivers. If you are sure the USB drivers are not the problem, double check that you have enabled the USB Debugging Mode.
Related Posts