Windows 10 comes with a new layout design which is what draws the most attention to begin with after updating a Windows operating system. The new Windows 10 OS also comes with a bunch of new features that separates it from the earlier Windows 8 and 8.1 updates. One of those features is the ability to scroll an inactive window that's open in conjunction with the active ones. Some of you will prefer disabling the inactive window scrolling feature. Here's how to do it:
HOW TO DISABLE THE INACTIVE WINDOW SCROLLING IN WINDOWS 10
1. Press the Windows key + I to launch the Settings menu.
2. Click the 'Devices' option that should be in the middle of the first row.
3. Click on the 'Mouse & Touchpad' option found on the left side panel.
4. You will see a few option on the right side. Look where it says "Scroll inactive windows when I hover them" and toggle the switch to the off position.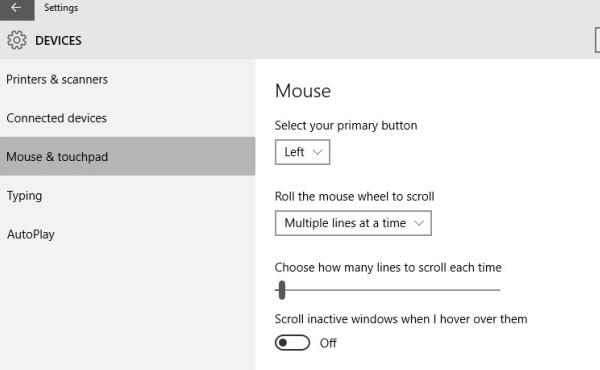 The toggle icon is easy to see. Simply go back in to this same location and toggle the switch back on again if you decide you want to turn it on again.
Related Posts