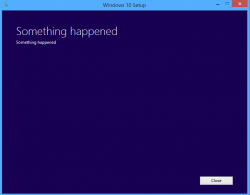 When it comes to error screens, Windows dishes out a few of them. One of the latest tends to sound pretty straight forward: 'Something happened', but is leaving people perplexed as to how to fix the issue.  If you need to know how to fix the 'Something happened' error during Windows upgrade, follow the guide after the jump.
FIXING THE 'SOMETHING HAPPENED' ERROR DURING WINDOWS 10 UPGRADE
Press the Windows key on the keyboard to open the Start menu.
Use the search field and type "Control Panel".
Locate and launch that same Control Panel app once it pops up on the screen.
Navigate through to Clock > Language > Region icon.
From the Region, section and select the Administrative tab.
Click "Change System Locale" button.
Select "English (US)" from the list of regional options.
Reboot the computer and restart the Windows 10 installation process. The problem should be solved.
Those who are still suffering from the same error message can try installing Windows 10 from an ISO file and install it that way.
Use the Windows 10 download tool to get your copy.
– choose between 32 and 64 bit architecture to get the right ISO file for your PC.
Restart the Windows PC, making sure you are logging on as the administrator to have the admin permissions.
Hit the Windows key once again to launch the Start menu.
Type "Windows 10 download' in the search field.
Right-click the app and choose to "run as administrator".
Finish up by following the on-screen instructions to create the bootable USB/DVD drive.
When the file is created, boot Windows 10 using the same file and you should be running Windows 10 without any 'Something happened' error messages.
Related Posts