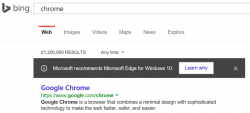 Microsoft's latest Windows 10 software comes with the new Edge browser, in a desperate attempt to try rebranding the old Internet Explorer browser by getting the negative opinions about the default browser that comes with Windows out of people's heads. Over the years IE (Internet Explorer) had developed an avoid if you can reputation, with roughly 1 in 10 people choosing IE over Google Chrome. Even the Firefox browser was getting more than 3 times the use of Internet Explorer. Further, more than 1 in 2 visits are coming directly from Safari — a mobile browser — over Internet Explorer. All up, IE is getting around 6% of the web traffic during August of 2015. A figure that's not close to what Microsoft had hoped for, since the Windows operating system is by far the most popular desktop OS of choice and IE is Microsoft-owned. That's where Microsoft's Egde browser come in — a new browser designed to take over from IE and comes with Windows 10.
The Microsoft Edge browser is running on 0.14% of all browsers tracked by Californian-based Net Applications. That number will have grown by now with more people upgrading to Windows 10 during August and part of September. However, data also points to users opting to shy away from the Edge browser in favor of other choices. If you too would like to change from the Edge browser, we'll show you how after the drop:
HOW TO CHANGE THE DEFAULT BROWSER IN WINDOWS 10
Open the Settings app.
Navigate to the 'System' on the left panel.
Click the 'Default Apps' option that's usually listed toward the bottom of the left panel.
Scroll down to 'Web Browser' and set your preference.
After clicking the Web browser option, you'll get the complete list of browsers currently installed coming to you in app form.
Related Posts