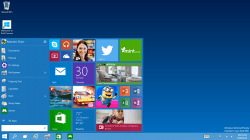 If you are suffering from an unresponsive Windows 10 taskbar, or a slow Start menu, you don't have to keep putting up with the problem. For some users, the problem is so bad that it makes the Start menu difficult to use at the best of times. While a fix with an automatic Windows update would be ideal, there's a workaround you can use to help immediately. Give this a try:
HOW TO FIX A SLOW START MENU AND UNRESPONSIVE TASKBAR IN WINDOWS 10
Right-click the mouse on the Start menu.
Choose System from the context menu.
Alternatively, right-click on This PC and choose Properties.
Select Advanced system settings from the window.
Navigate to the Advanced tab from the System Properties window.
Click Settings under the Performance section.
Look at the list of options for one that says Animations in Taskbar and deselect the box so it's empty.
Click the Apply button to apply the changes.
Stopping the animations will speed up the Windows 10 taskbar when you right-click over a blank space on the taskbar or when you click on one of the available apps from the bar. The context menus will pop up faster.
Related Posts