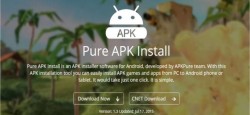 During my time as a how-to guide writer for websites, I cover many guides that require people to install APK files. Due to the already long nature of many of the guides, I don't always go into detail about how to install APK files. The guide below teaches you how to install any APK file to Android devices via the Windows PC desktop.
BEFORE WE BEGIN
Download the Pure APK install tool from the official website here.
Enable the USB Debugging Mode from your Android device so you can connect it to the Windows computer. You can find the USB Debugging Mode from the Settings > Developer Options.
Those of you who cannot see any Developer Options menu from the Settings probably need to unlock the hidden menu. Go to the Settings > About Device and tap over where it says the build number until the menu is unlocked.
There is no need to worry about malware using this tool. The file doesn't come with any additional packages. Also, the Pure APK Install tool does an automatic malware check of your APK files before transferring them.
HOW TO INSTALL APK FILES ON ANDROID USING A WINDOWS PC DESKTOP
Start by running the Pure APK Install program on the computer. You want it running before connecting the Android to the computer.
Connect the Android device of your choice to the computer where you have downloaded the Pure APK Install tool.
Swipe or enter the password to unlock the device. The guide won't work if the device is locked. Additionally, tap the display to make sure it's not asleep.
Select where you want to install the APK file on your Android from the main program menu.
Click the green "Install" button from the main screen of the program.
The app will now be installed directly to your smartphone or tablets app drawer.
In conclusion, there should be no one who cannot install APK files on an Android device. It's always recommended to download APK files to the PC before transferring them over to the device storage anyway.
Related Posts