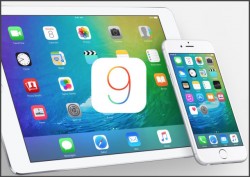 As you probably know, the official iOS 9 release for Apple mobiles is now out and arriving to people's devices over the air. If you don't want to install the latest iOS 9 software update on your iPhone, iPad or iPod Touch, you might prefer installing it manually through iTunes. Learn more about that from this page: How to download and install iOS 9 final for iPhone, iPad and iPod touch.
Those of you who have already updated, might have noticed poor battery life in iOS 9. If you need to learn how to fix iOS 9 battery drain issues because it's letting you down, just follow the guide after the drop. You should have no more bad iOS 9 battery life after implementing the solutions below.
Notes:
It's normal to experience some battery draining after new software updates. The reason being is the software needs to re-collaborate to the battery since they aren't used to 'getting along together' just yet. With that being said, there are definitely times where people unluckily suffer from more sever battery drainage after software updates. For all of those people, this guide on how to fix iOS 9 battery drain issues is for you.
Reset all the settings
Believe it or not, something as simple as adjusting the settings can help your iOS 9 battery life problems. In particular, we want to reset all settings. Navigate to Settings > General > Reset > Reset All Settings on your iPhone, iPad or iPod touch to reset all settings. Resetting all of the settings will do exactly as advertised and reset all settings so it's just like out was out of the factory. Make sure you are aware of that fact before choosing to reset all settings or else you'll lose any preferences you had over the stock ROM.
Toggle the iCloud Keychain
Toggling the iCloud Keychain means exactly that: toggle the switch off and on. You don't need to flick the toggle to the off position and use your iDevice with Keychian off. Rather, this fix is a bit more complex than that. You see, the iCloud Keychain is a new feature that was meant to bring nothing but convenience by storing all of your passwords in the one location. However, sometimes it can cause battery braining issue — something to do with how it works and not just it working. Try toggling the switch off and on again and see if that helps.
Location Services
Unlike the other options above, Location Services isn't known to directly help fix or contribute to iOS9 battery draining issues. However, since the Location Services app works off of a GPS signal, you can be rest assured it does chew the battery more-so than the average app. If you are experiencing battery draining issues with iOS 9 and cannot seem to find a solution, you can at least toggle the Location Services to the 'off' position and save some juice that way.
If all else fails:
It's time to consider clean installing iOS 9 by using one of our iOS 9 IPSW links found in the link during our introduction to this post. By uploading the correct IPSW file to your iTunes on computer and flashing the firmware manually, you are clean installing the software update and effectively overriding the old build that you updated over the air. While updating software over the air is by far the most convenient method, sometimes things can go wrong and it's best just to cut your losses and try again.
If you don't have the confidence for a clean iOS 9 installation, don't worry. You can always just wait around for the IOS 9.1 software update that's going to arrive soon.
Related Posts