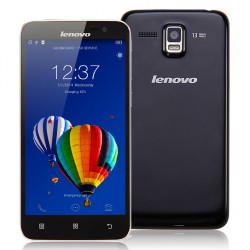 The Lenovo A806 Golden Warrior A8 is a smartphone released during 2014 running Android 4.4.2 KitKat out of the box. If you want to stay loyal to the Lenovo brand, and yet, don't want to break a budget, the A8 is a smart choice since it's available for under $200. The only problem with buying the cheaper handsets is that sometimes they don't always get the latest software updates. There's a way around that. With root access, we can sometimes install the latest software update, thanks to unofficial builds that arrive by third-party developers. If you do root Lenovo A806 Golden Warrior A8 on Android 4.4.2 KitKat and don't find any new software updates boosting your OS to Android 5.0 Lollipop, you can still install those cool root-requiring apps from the Google Play Store. Without root access, you are only able to install the official apps available form Google Play; however, there is still another world to open up with endless opportunities with third party apps you need to explore. Hacking the internal system by rooting the Lenovo A806 Golden Warrior is the sure way to make that happen.
REQUIREMENTS
The guide is only to be used on the Lenovo Golden Warrior A8. It should work on any software update available for the A8 up until today. That date could extend further to future software updates, but we cannot be sure until we test it.
BEFORE WE BEGIN
You don't need to download USB Drivers for this how-to guide. However, if you find this guide doesn't work for you, there is a desktop version of the same app available that the KingRoot developers advise you use. In those instances, you definitely should install the universal USB driver available from this page directly to your computer before starting.
You are voiding the warranty when you root Lenovo A806 Golden Warrior A8. You'll need to unroot it by removing the KingUser with the same collection of three apps that end up on your device after following the guide below.
HOW TO ROOT LENOVO A806 GOLDEN WARRIOR A8 ON ANDROID 4.4.X KITKAT
The following guide is not working. We will update the guide when we hear of a working rooting method for this device.
Install the PK file just like you would any other APK by using a File manager.
– you can find some great open source options that are free, or just download something like ASTRO File manager from the Play Store. ASTRO isn't free, however.
Once you have installed the APK, you'll see three new apps available on your smartphone where you usually see apps in the app drawer.
Once of those apps is useful for unrooting, the other is good for rooting.
Tap and open the KingRoot app for gaining the root access.
Click the large blue/green button that says something along the lines of "Get Root/Try to Root". The wording is largely dependent on the app version and is subject to change.
The KingRoot tool will now browse all the known working rooting methods for your device from it's cloud servers.
Once it is complete, you'll see a large green tick indicating that you are free to unplug and enjoy your new rooted device.
Now you can install a custom recovery on the Lenovo A8 A806 smartphone.
Related Posts