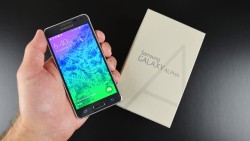 The Samsung Galaxy Alpha with model number SM-850Y now has a new root method available for those running on any firmware available to date. The firmware ranges from Android 4.4.4 KitKat through to Android 5.0 Lollipop. As a result of the KingRoot tool searching its cloud service for all rooting methods available, there's a good chance the following guide will continue to work for future software update, including Android 5.1 Lollipop. Once you root Samsung Galaxy Alpha SM-850Y, you can install root-only apps from the Google Play Store. These apps open up a new world for you so that you can overclock the smartphone, increase the performance, increase the battery duration, remove the stock Samsung bloatware and more. Follow the guide after the drop to learn how to root Samsung Galaxy Alpha SM-850Y.
REQUIREMENTS
The guide we are making today is only for the Samsung Galaxy Alpha with the model number SM-850Y. It's true the KingRoot app works for many Android devices, but it doesn't work for all of them. Therefore, you shouldn't assume your device will work using this app.
BEFORE WE BEGIN
Head to Menu > Settings > Security and turn on Unknown Sources. It will allow you to install applications from outside of the Google Play Store.
You are voiding the warranty by following the guide for rooting the Samsung Galaxy Alpha. Due to Samsung's added Knox security, that warranty isn't always as easy to retain as unrooting with Odin. If the Knox security is tripped, then flashing the stock ROM won't help you.
You don't need to be an experienced Android user to learn how to root Samsung Galaxy Alpha SM-850Y on Android 5.0 Lollipop or Android 4.4 KitKat. The KingRoot app will let you know if your device is able to be rooted which eliminates any chance of a bricked device.
Those without a File manager already installed will need to download third-party File manager from the Google Play Store. The File managers can be on a device by default, available open source for free or able to be purchased from developers from the Google Play Store as apps.
HOW TO ROOT THE SAMSUNG GALAXY ALPHA SM-850Y ON ANDROID 4.4.4 KITKAT AND 5.0 LOLLIPOP
Download the KingRoot rooting tool from the official XDA Developers page.
Install the app on your Android (Galaxy Alpha) as you would any other app using the File Manager.
You'll see three new applications available from the app drawer when it's done correctly. One of them is useful for unrooting the device, while the other is useful for rooting.
Tap and open the app called KingRoot.
You'll see a large button inside that says 'try to Root'. Tao that button and wait as the KingRoot tool tries to learn how to root Samsung Galaxy Alpha SM-850Y.
Once it's starting to root your device, you'll get to watch a progress bar.
A success message will be shown on your device's display when it's complete.
Make sure you reboot the Samsung Galaxy Alpha after you finish with the KingRoot tool.
Now you are ready to install any root-only app that's available from the Google Play Store. Furthermore, you should have no worries installing a custom recovery so you can check out the custom ROMs available.
Related Posts