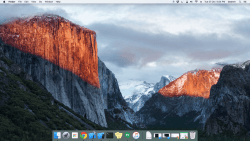 Irrespective of what 'class of users' you might belong to, there might have been at least one moment when you could just measure something that was on your screen, without much fuss. Unfortunately, OS X doesn't have any measuring tool packaged with itself, as it is. One usually has to resort to some third-party application(s) (often with some frustration), which usually provide users with more power than what was required for the user ('over-powering'; you get that bad joke, don't you?).
So, let's jump straight to the point. We CAN measure on-screen dimensions on our Mac without using any of those often-sophisticated third-party tools. It's neither an out-of-box method for measuring on-screen dimensions, nor a compromise for what we want to achieve. What we are going to do is to start with the process of snapshotting a part of the screen, which displays the measurement of the selected area on the screen, and then exiting from the process, without making the unwanted snapshot.
Though both of the following methods are almost similar, we have 2 options of achieving the same.
Using Native Snapshotting Tool
With the item that needs to be measured on screen, press Command + Shift + 4. This changes your cursor, and it also shows you the current coordinate of the cursor.
Click and grab through the area that you need to measure.
The measurement of the area is shown beside the cursor.
After you have noted the measurement, press the "Esc" key to prevent the screenshot from being taken.
It's as simple as that.
Using built-in Grab Utility
 Press Command + Space to bring up the Spotlight Search.
Type in "grab" and press Enter to launch the Grab utility.
With the element to be measured visible on the screen, from the top menu of Grab, choose Capture -> Selection.
Then, click and grab through the area you need to measure.
Just like with the snapshotting tool, the measurement is displayed to the bottom-right corner of the selection, beside the cursor.
After you are done, you can close the generated "Grab" of your selected area, by closing the window and choosing "Don't Save".
Related Posts