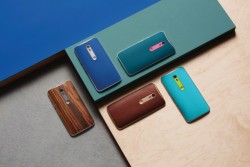 You will have two options to reset Motorola Moto X Play when you are using the smartphone. The most common option is a soft reset where you just reset the OS so that any minor bugs can hopefully get lost. The other options is a hard reset, and that option is a much more serious option to take. A hard reset will wipe your device clean so that it had no data on it and appears just like it did when you first opened it out of the box. The hard reset is extremely effective with getting rid of any lingering bugs, but also very effective at removing your data. So on that note, do make sure you backup your Motorola Moto X Play smartphone before continuing.
There are two ways you can take the hard reset on Motorola Moto X Play. You should at least attempt to use the settings first. Those of you who cannot get the device to respond in the settings can boot into recovery mode and take the hard reset that way instead.
HOW TO HARD RESET MOTOROLA MOTO X PLAY
Using the settings:
Turn on the Moto X Play and unlock it if need be.
Point to the 'Menu', followed by the 'Settings'.
Tap the 'Backup & Reset' option.
Tap the 'Factory Data Reset' and head to the 'Reset Device'.
Pick the option that says 'Erase Everything'.
You'll now be greeted with some terms and agreements you must agree to if the device is to carry out your hard reset request.
Wait while the OS now completes your hard reset request.
When done, choose the 'Reboot System' option from the recovery menu.
Using the recovery mode:
Press the Power key just once and then select the 'Switch Off' option from the menu. Those without a responsive display can press the Power button for about 5 second or until you know the device is completely switched off.
Now that your device is in the recovery mode, select the 'Wipe Data/Factory Reset' option from the main menu.
As you can see, the recovery mode lists it as 'Factory Reset'. A factory reset and a hard reset are effectively the same thing, so once that completes you will be finished.
Go back to the main recovery menu and choose the 'Reboot System' option.
That should help all of you hard reset Motorola Moto X Play devices. It doesn't matter if your device is running a stock ROM or a custom ROM. The resetting should work just the same for everybody. Likewise, it doesn't matter if you have a device with root access or the internal system locked up with those factory restrictions.
Related Posts