Despite the fact that the Start Menu in Windows 10 is a huge improvement from Windows 8, it's still too simple. Once you get used to it, you'll see many frustrating limits. The most complaint I've heard is the lack of the ability to pin anything to either the left side or the tile side of Start Menu. Long before, dotTech got a trick to pin things to the left side but it still takes great effort. On the right side, you can only pin folder. Today, I'll show you how to pin almost anything as a tile to the Start Menu.
How to pin (almost) anything to the Start Menu as a tile
As you notice I say "almost," it's because I can't guarantee everything file types will work. But I could pin the Recycle Bin, as in my test, so I think it would be working with everything else.
The trick is that anything in the All Apps list is able to become a tile, which then can be pinned to the Start Menu. But how do you get your things on the All Apps list? I got it covered here.
If you're too lazy to head to the link, here are all the steps you need to pin things to the Start Menu.
First, navigate to this location:


C:\ProgramData\Microsoft\Windows\Start Menu\Programs

Right click on the empty space and choose New -> Shortcut.
Click Browse to find a file, a folder, or whatever you want to pin.
Then hit Next and OK and you'll have a shortcut.
That's how you put your item into the All Apps list. Just go to the Start Menu, click All Apps and check if you got it in.
From this point, everything will be easy. As you know, to pin item in All Apps to the right side, you just need to right click on it and select Pin to Start.
Voila you got its live tile on the Start Menu.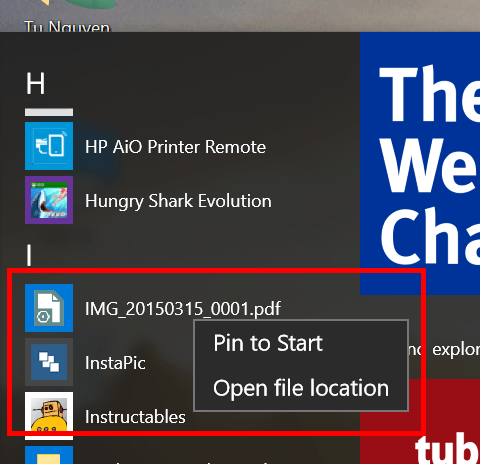 Now it's time for resizing, moving and grouping your tiles. It just feels like you get a second desktop to make a mess with.
Hope you enjoy it and share in the comment section below if you have any other way to pin things to the Start Menu.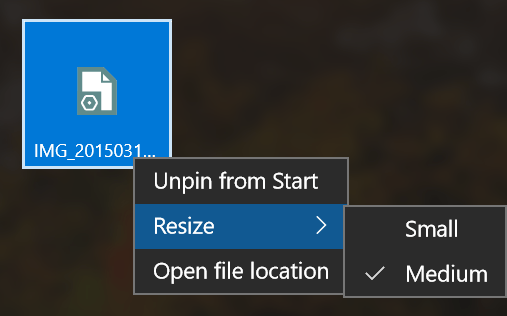 Related Posts