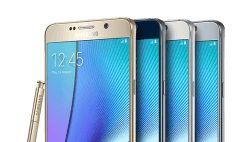 The Samsung recovery mode is always easy to use because you can use both the Volume Up and Volume Down buttons to navigate through the recovery menu. That's not always the case with other stock recovery modes. Some OEMs give you the Volume Down button only and make you confirm the options using the Volume Up button. That's harder for a few reasons. The main obvious reason is that you can only scroll through the list one way and thus take more time to highlight the option you want if you accidentally go past your marker. The other reason why it's not favorable is because you don't mentally assume Volume Up means enter. Once we enter recovery mode on Samsung Galaxy Note 5, we can use both Volume keys as I mentioned before.
REQUIREMENTS
You may use the following guides on any version of the Samsung Galaxy Note 5 smartphone. In other words, it doesn't matter who your phone carrier network is or if it's unlocked; the guide will work just the same for all of you.
HOW TO ENTER RECOVERY MODE ON SAMSUNG GALAXY NOTE 5
Press the Power button for about a second and release, and then select the 'Switch Off' option from the menu.
Those who cannot get the screen to work can long-press the Power button for about 5 seconds and get it to turn off that way.
Do not touch any buttons for at least a few seconds.
Reboot the Samsung Galaxy Note 5 by holding the Home + Volume Up + Power buttons.
Keep holding the three buttons until you see the recovery mode menu on the Note's display.
Now that you are in the recovery mode, you should see the options to take the factory reset, wipe the data, wipe the cache partition and apply updates.
Select your option by pressing the Power button. For example, highlight the factory reset option using the Volume buttons and press the Power button to apply that factory reset option.
Choose the reboot system option from the main recovery menu when you are done and it will reboot your device after applying the changes.
If you cannot get the hardware keys to work during the guide above, you can download and install the Quick Boot app from the Google Play Store. The Quick Boot app is only available for rooted Samsung Galaxy Note 5 users, though, and won't work without root access to the internal system.
Related Posts