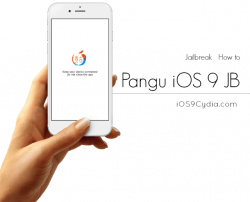 While most are just grateful to have a jailbreak released, it doesn't change the fact that the latest iOS 9 Pangu jailbreak is far from a perfect release. Many people are finding the Pangu jailbreaking tool is giving bugs after the installation. One of those bugs in particular is the Cydia app not opening and crashing. The following guide shows you how to fix Cydia not opening and/or crashing after installing the Pangu iOS 9 jailbreak on Apple devices.
For most, having a Cydia app that doesn't operate is far less than ideal since using the Cydia app is one of the main reasons to have a jailbreak running. It's from within Cydia that we install tons of Cydia tweaks and new themes. So, rather than giving up and removing the jailbreak on your device, you should try fixing the Cydia crashing on Pangu 9 problem by following this guide.
BEFORE WE BEGIN
Make sure you take a full unencrypted backup before starting the guide. You can do that by using iTunes for your device.
HOW TO FIX CYDIA NOT OPENING AFTER THE PANGU 9 JAILBREAK
Have iOS 9.0.2 running on your device. You can download iOS 9.0.2 IPSW for iPhone, iPad and iPod touch devices from our page if you don't have the IPSW file on your computer already.
Launch your Apple mobile device in DFU Mode. Do that by connecting the Apple mobile to the computer you are using. Launch iTunes. Hold the Power + Home + TouchID buttons. Keeping pressing the three buttons for ten seconds without releasing any of them. Once 10 seconds is up, release the Power button but continue holding the Home + Touch ID buttons. iTunes will now confirm your device is in the DFU Mode.
Hold down the Shift key on Windows or the Option key if you are using a Mac operating system.
Click the 'Restore iPhone' option.
Download the updated version of the Pangu jailbreaking tool from this link.
Jailbreak your device using one of the two options available to you below:
Once you have finished the jailbreaking guide, do not launch Cydia straight away. Instead, go and turn off the Airplane Mode from the Settings. Additionally, check that your device is properly connected to WiFi. Those two steps are the keys to your success with this guide, so take a good look at your WiFi.
Launch the Cydia app from the Springboard.
Wait and Cydia refreshes and loads completely. Do not touch any buttons in the mean time.
Once Cydia is finished, your device will restart. Wait patiently for it to do just that without you touching any buttons.
Now that your Apple mobile device is rebooted, you can use Cydia as normal.
Nice one; now that you know how to fix Cydia not opening or crashing after the Pangu 9 jailbreak, you should have no more problems.
Related Posts