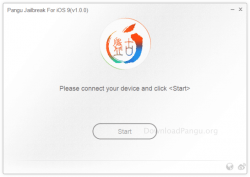 The Pangu 9 jailbreak for those running iOS 9 through to the latest  iOS 9.0.2 firmware builds is now live. Those of you with a Mac OS X computer to go along with your Apple mobile devices will have to wait a bit longer for an official tool to help you jailbreak using a Mac operating system. However, we have a way in which you can set up a Windows virtual machine on your Mac and get your iOS devices jailbreaken on the latest Pangu 9 untethered jailbreaking tool.
Of course, some of you might prefer to wait for the official Mac release that will probably come some time soon, but those thinking that it's coming in the new few days might be surprised at how long it will be until it's release. There's no information to suggest it's close to being released yet.
REQUIREMENTS
You can only follow this guide if you have one of the Apple mobile devices that works with Pangu 9 on Windows.
That list includes the iPhone 6s, 6s Plus, 6, 6 Plus, iPhone 5s, 5c, 5, and the iPhone 4s. Anything under the 4s when talking about iPhone's alone will not work on the latest Pangu 9 jailbreak, nor will they work on the latest iOS 9 software update.
From the iPad range, you can use the iPad 4, 3, 2, iPad mini 4, mini 3, mini 2, mini 1, iPad Air 2, and the iPad Air 1.
You may use this guide on the iPod touch 6, and the iPod touch 5.
No other devices from the Apple product line are compatible with this guide.
BEFORE WE BEGIN
Make sure you backup the iPhone, iPad or the iPod touch you are using during the guide. You want to do that before you start for when you decide to restore the device. You do not need to wipe any data just to apply the jailbreak. However, if something were to go wrong and you wanted to restore your Apple mobile devices, you would want to restore a backup of your data.
Once you download the parallels free trial software, you have 14 days to use it and thus if you don't plan on using it today then you would be wise not to download it yet.
HOW TO JAILBREAK IOS 9 – IOS 9.0.2 USING PANGU 9 ON MAC OS X
Download the parallels free trial version software from this link.
Download the Windows 10 free trial version from Microsoft. Microsoft gives you up to 9-0 days to check out Windows 10 in an ISO file. Traditionally speaking, that's not available for Mac users for obvious reasons. However, with the help of the Windows 10 virtual machine using the Parallels software, you can get that working on your computer.
Install the Parallels 11 software on your Mac machine. The total file size is close to 300 MB's, so that's something to consider before downloading. Give yourself the time, or back out if that amount of data is something you are willing to invest.
Choose the 'Install Windows or another OS from a DVD or image file' option from the main display after you have installed the Parallels 11 tool.
Select the 'ISO Image File' option from the next screen.
Browse the Mac and upload the file, or click and drag the ISO file over.
Click the 'continue' button and follow the on-screen instructions to complete the job.
Wait as the Windows 10 OS is now installed on your Mac operating system.
Download the latest iTunes on the new virtual machine with Windows 10 and use it to jailbreak your device.
Now read how to jailbreak iOS 9.0.2 on iPhone, iPad, iPod touch with Pangu 9.
Related Posts