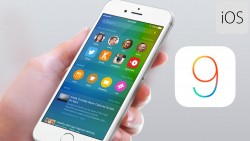 Those of you with an iPhone, iPad and iPod touch capable of running the original iOS 9 software release can now update to the latest iOS 9.0.2 software update manually using the IPSW files. The official release of iOS 9.0.2 arrived a few weeks ago now, but with the latest Pangu 9 jailbreak for iOS 9.0.2 just released, you might want the official iOS 9.0.2 IPSW files to download and install on your computer. The reason is that you should not install the Pangu 9 jailbreak on your device if you updated to iOS any iOS 9 firmware over the air. That includes all of the people who are running iOS 9.0.2 but accepted the over the air notification.
Of course, the links aren't just available for those wanting to jailbreak. Any of you can install these files if you are just wanting to restore your device or update the device manually.
The iOS 9.0.2 changelog:
This update contains bug fixes and improvements, including

Fixes an issue with the setting to turn on or off app mobile data usage.

Resolves an issue that prevented iMessage activation for some users.

Resolves an issue where an iCloud Backup could be interrupted after starting a manual backup.

Fixes an issue where the screen could incorrectly rotate when receiving notifications.

Improves the stability of Podcasts.
There's also a large security fix for the photos app and contacts from the lock screen you can read about here:
iOS 9.0.2

Lock Screen

Available for: iPhone 4s and later, iPod touch (5th generation) and later, iPad 2 and later

Impact: A person with physical access to an iOS device may be able to access photos and contacts from the lock screen

Description: A lock screen issue allowed access to photos and contacts on a locked device. This issue was addressed by restricting options offered on a locked device.
The following links are the official firmware files issued by Apple and available on the web. All you need to do is click the link that matches up with your device and download the file to the desktop of the computer. Download and install the latest iTunes if you don't have it already. Hold down the Shift key for Windows or the Option key for Mac. Select the 'Restore iPhone' option from the menu. Upload the iOS 9.0.2 IPSW file that's on your desktop to iTunes and iTunes will flash that firmware on your device.
iOS 9.0.2 IPSW links available to download:
Related Posts